Sauce Awards
Bauce Brothers presents the most exciting hot sauces of 2023
what's new?
Welcome to the 2023 Sauce Awards, where 30 sauces will go head to head, in a live tasting session to be crowned hot sauce of the year.

This year the public vote will be its own category, and you can go support your favourite hot sauce, by placing a vote below.

You can also get to know our 2023 finalists by reading about why we chose them to go to judges round.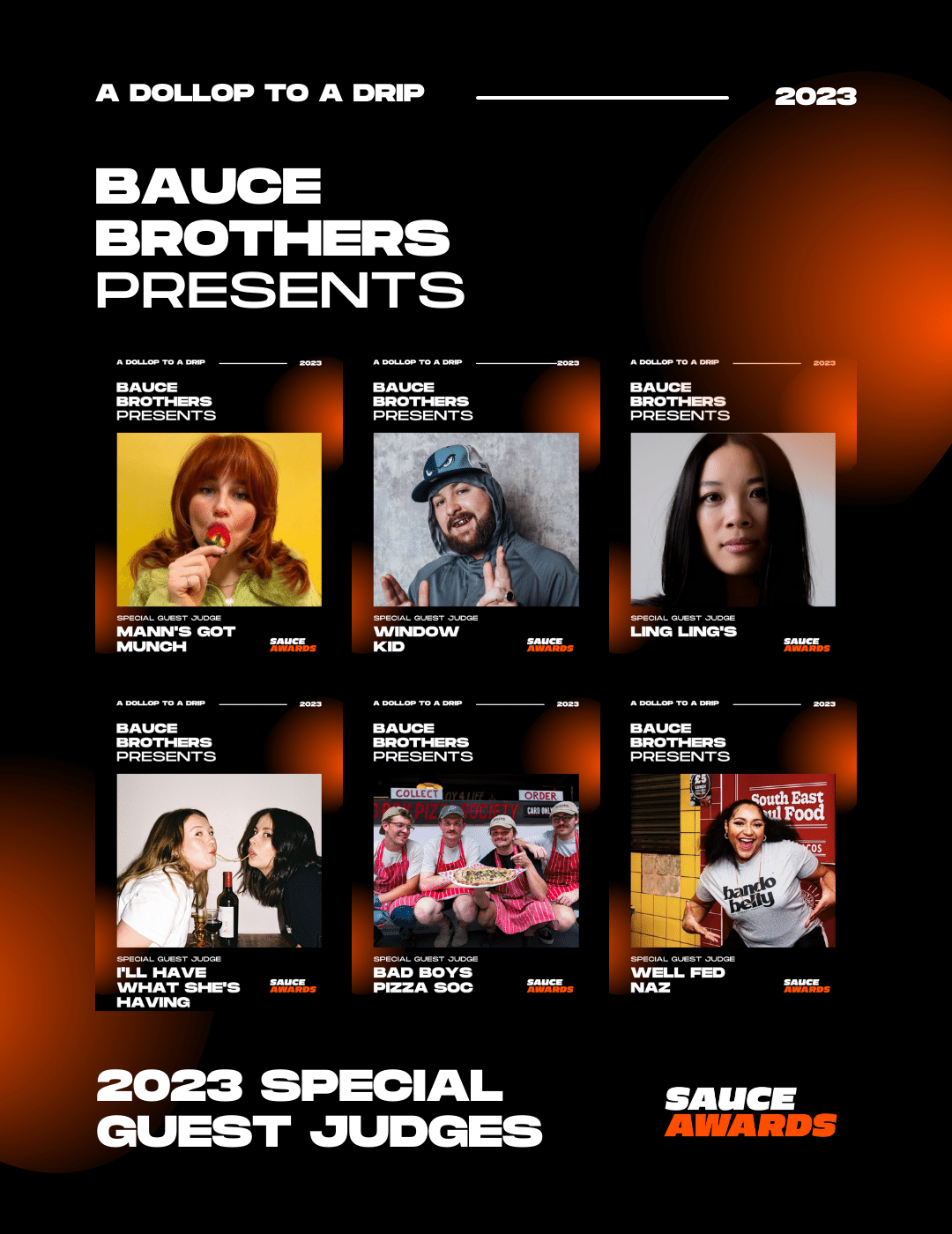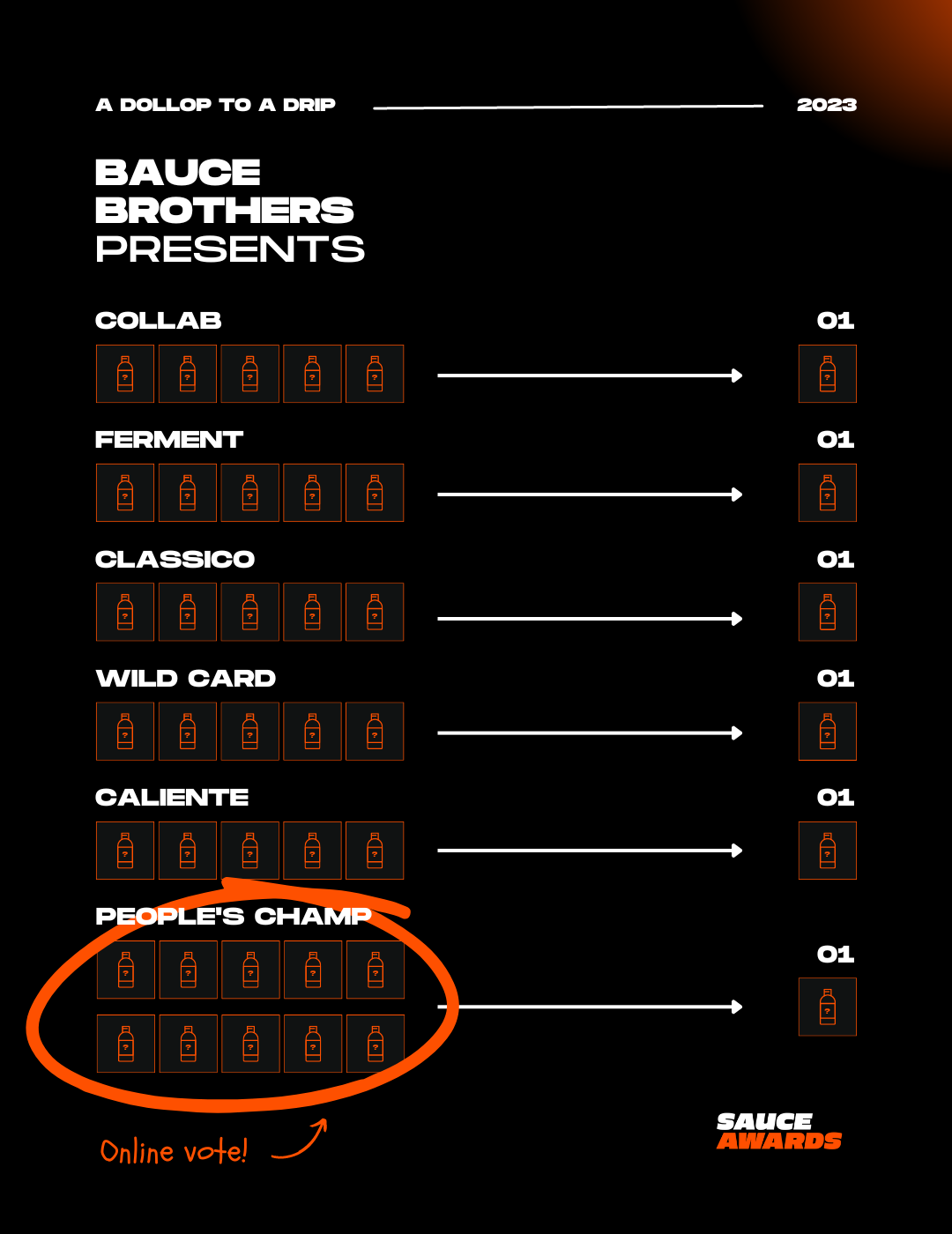 People's champ
Vote your favourite hot sauce of 2023, you can vote for more than one sauce.

Simply place your vote below to support the sauce you love the most.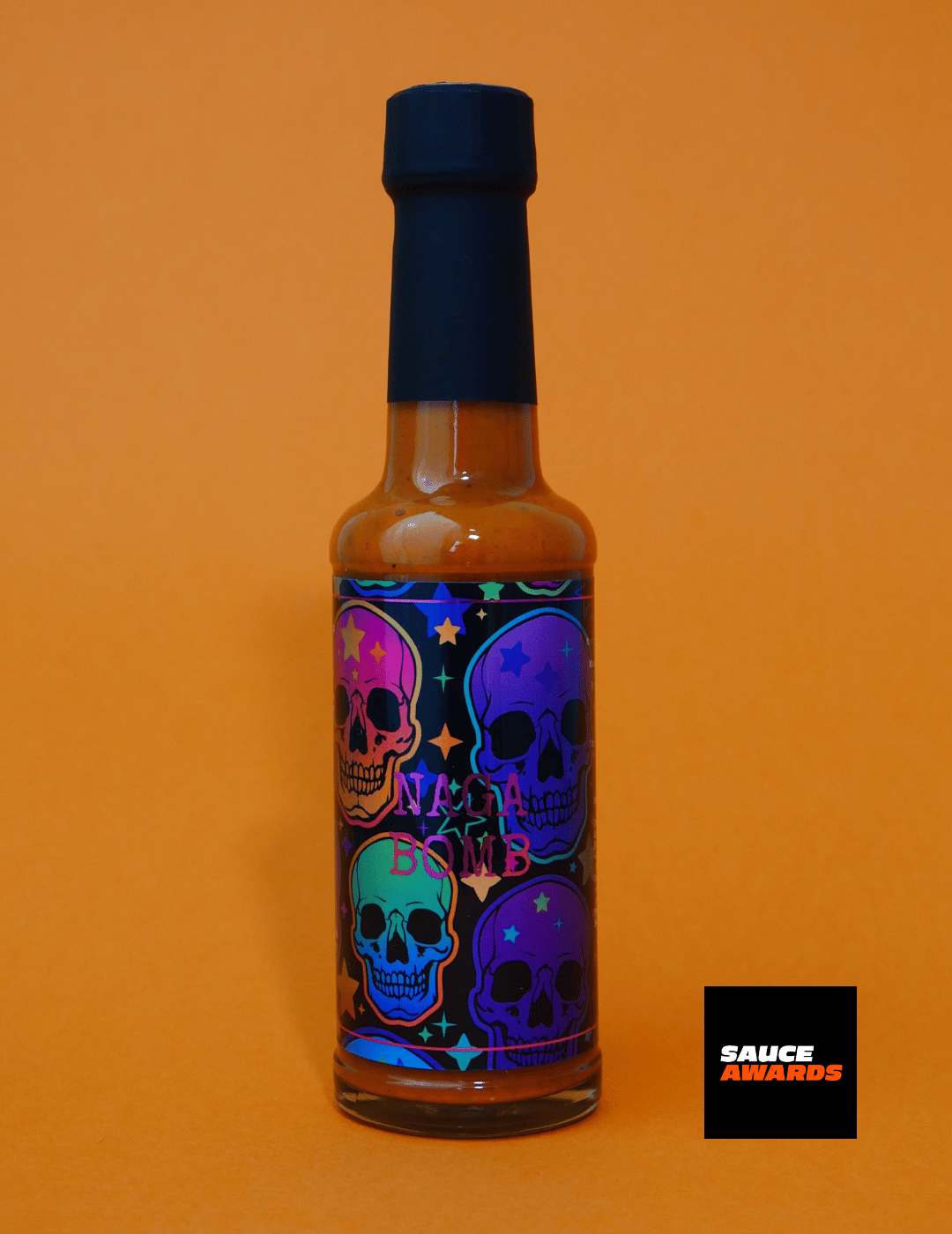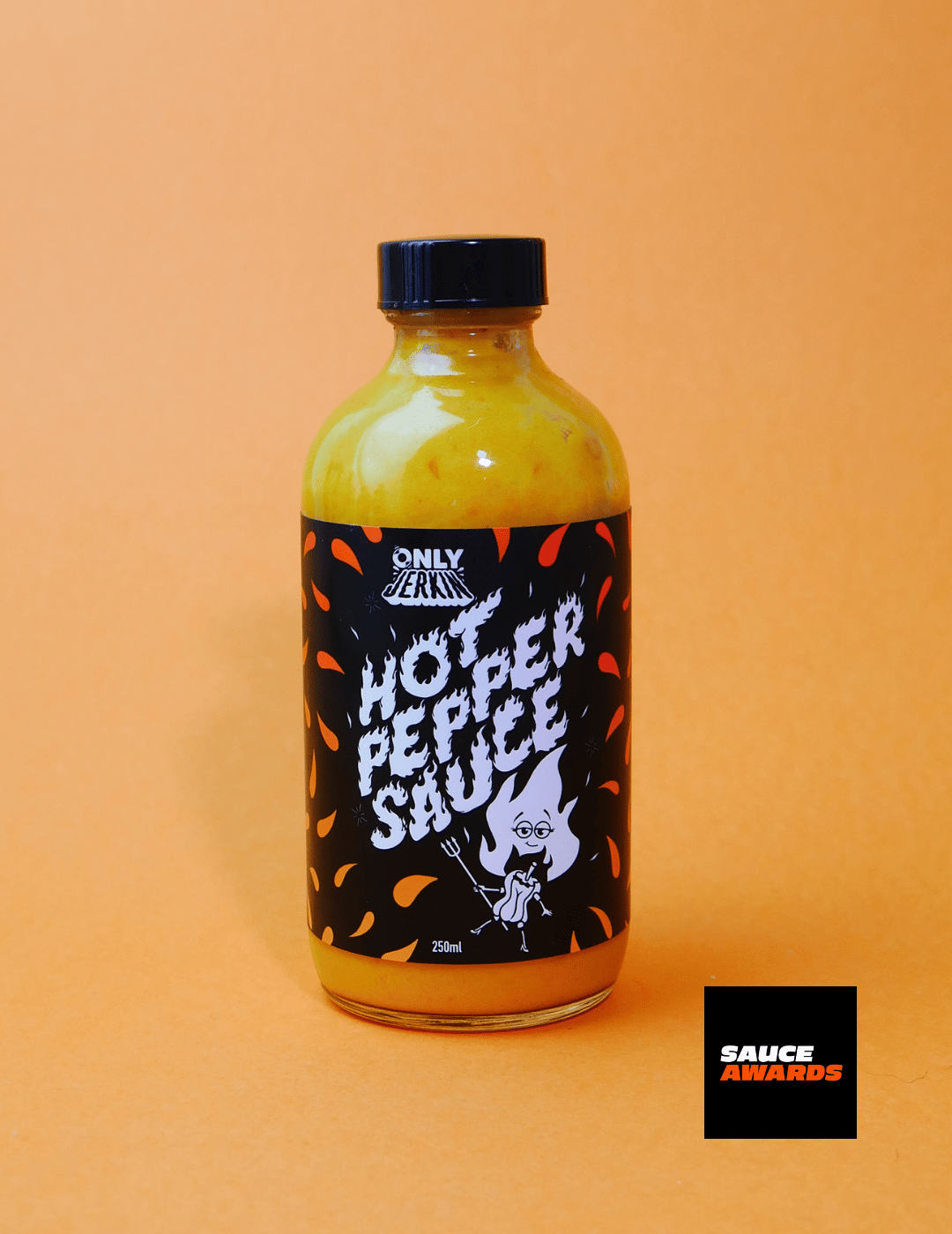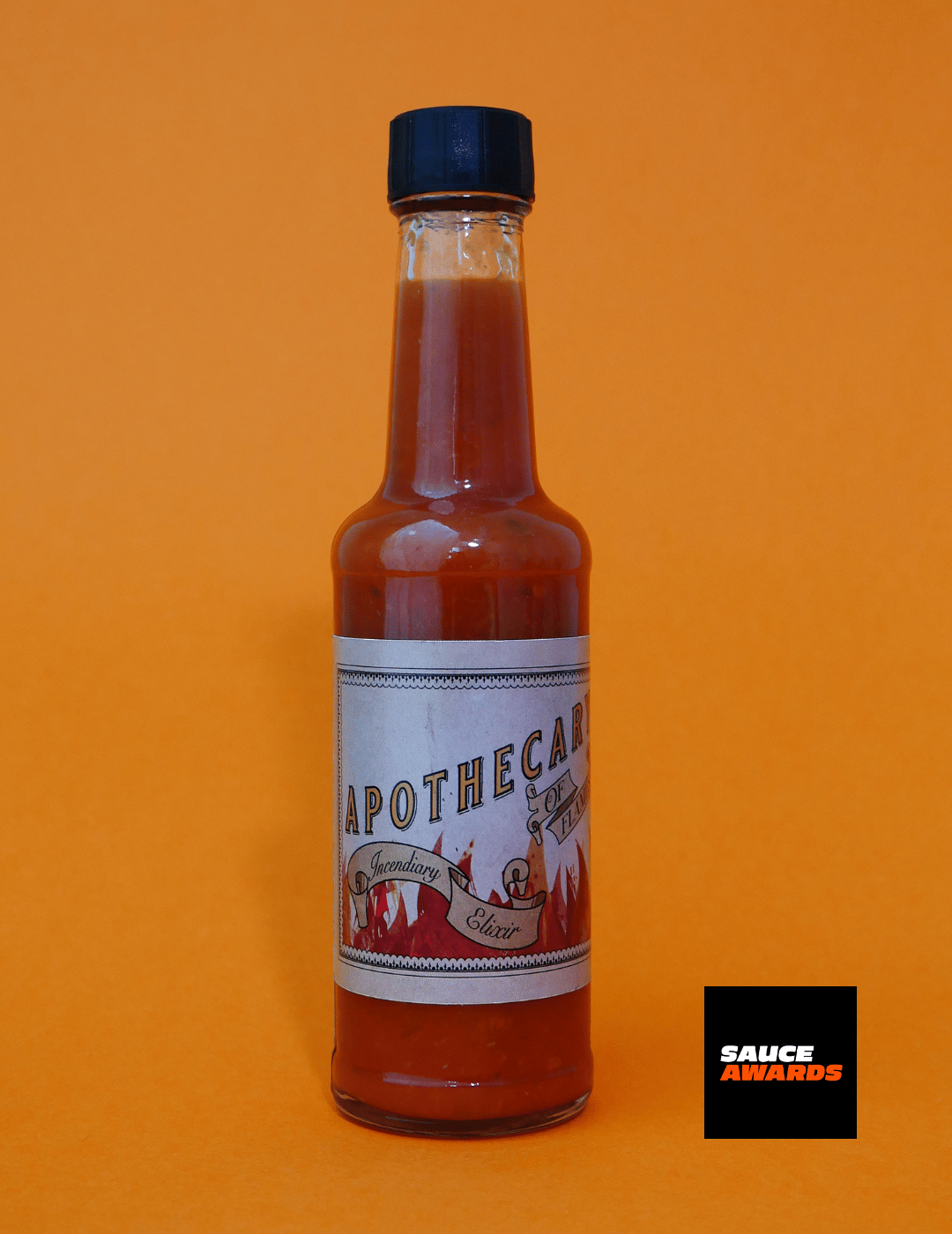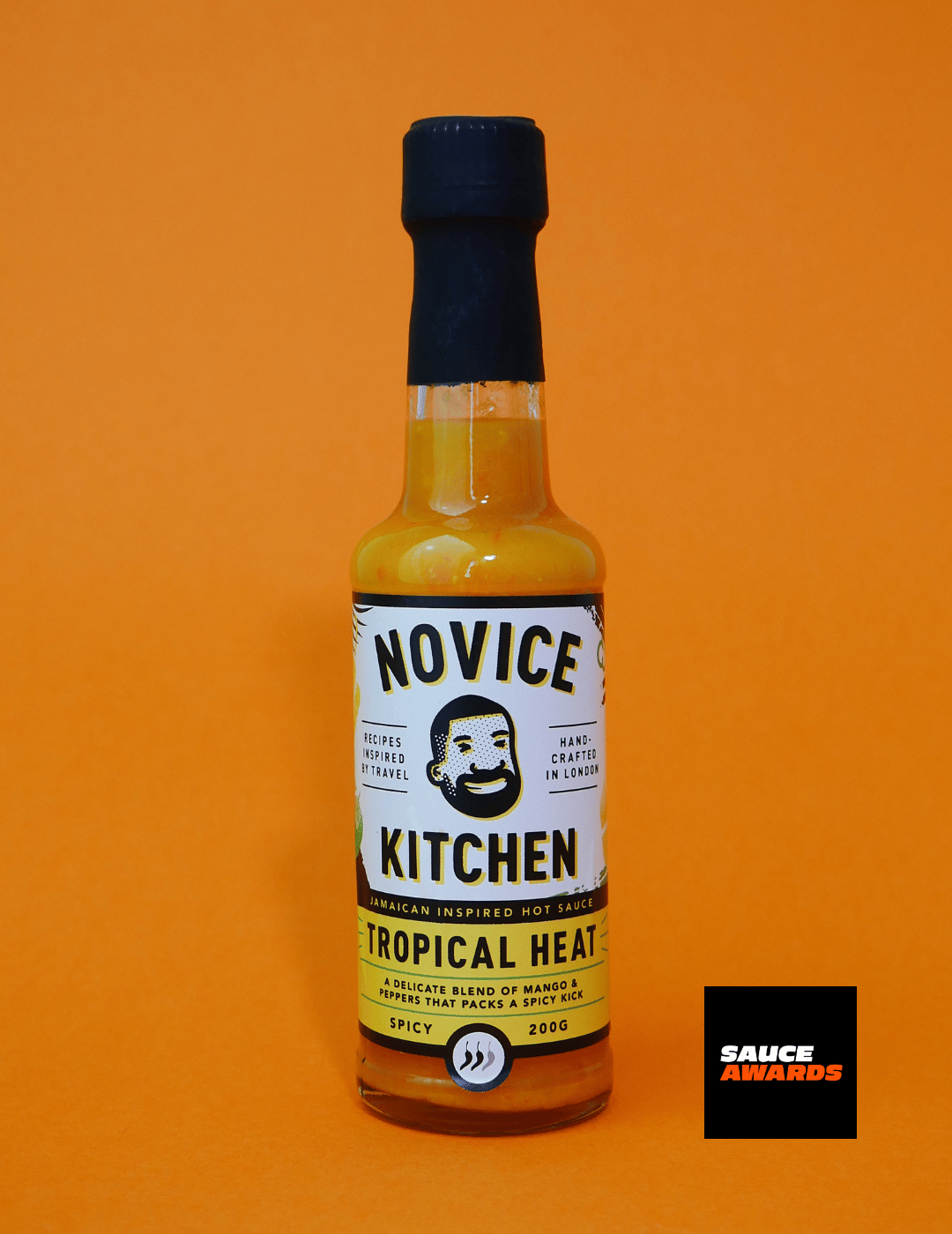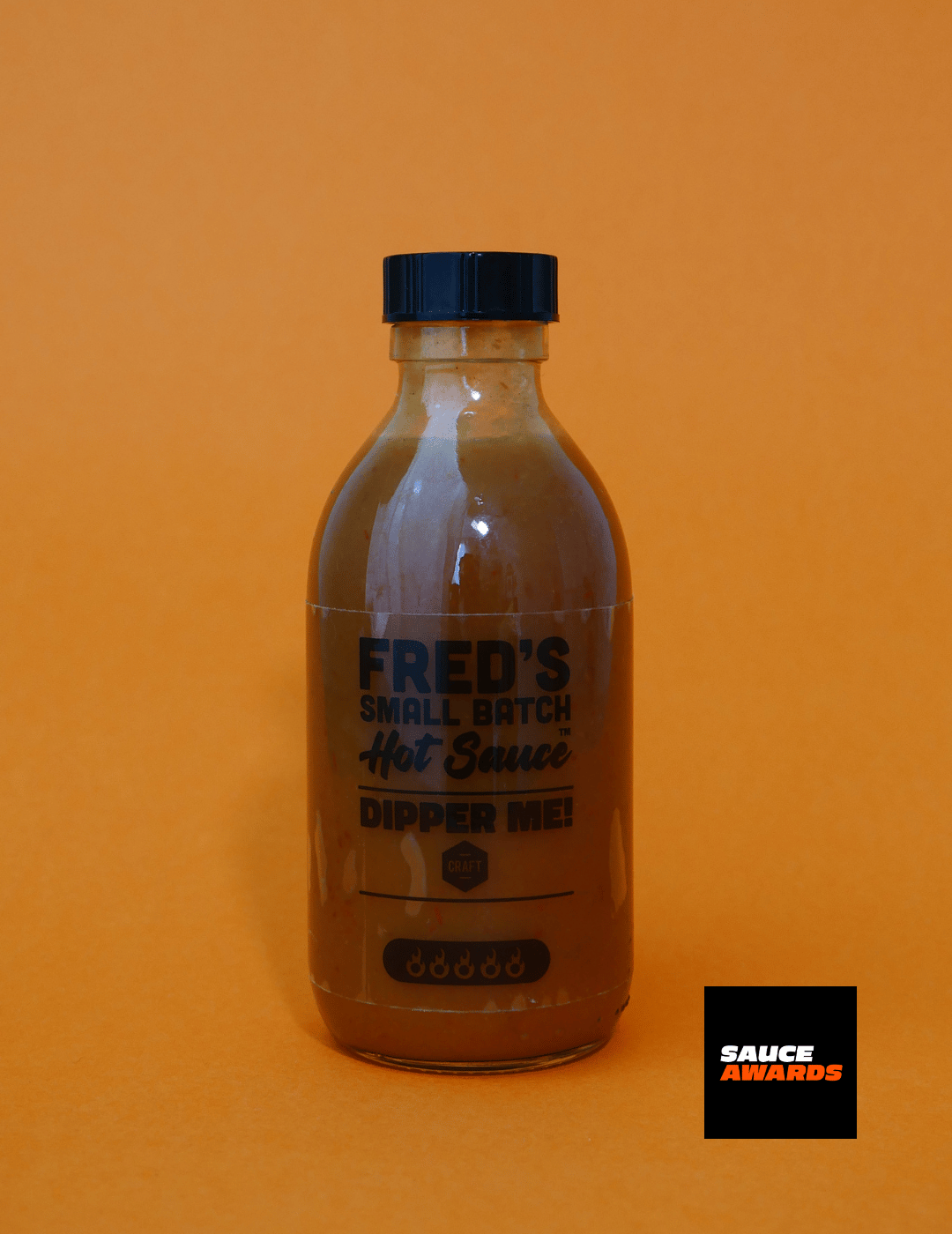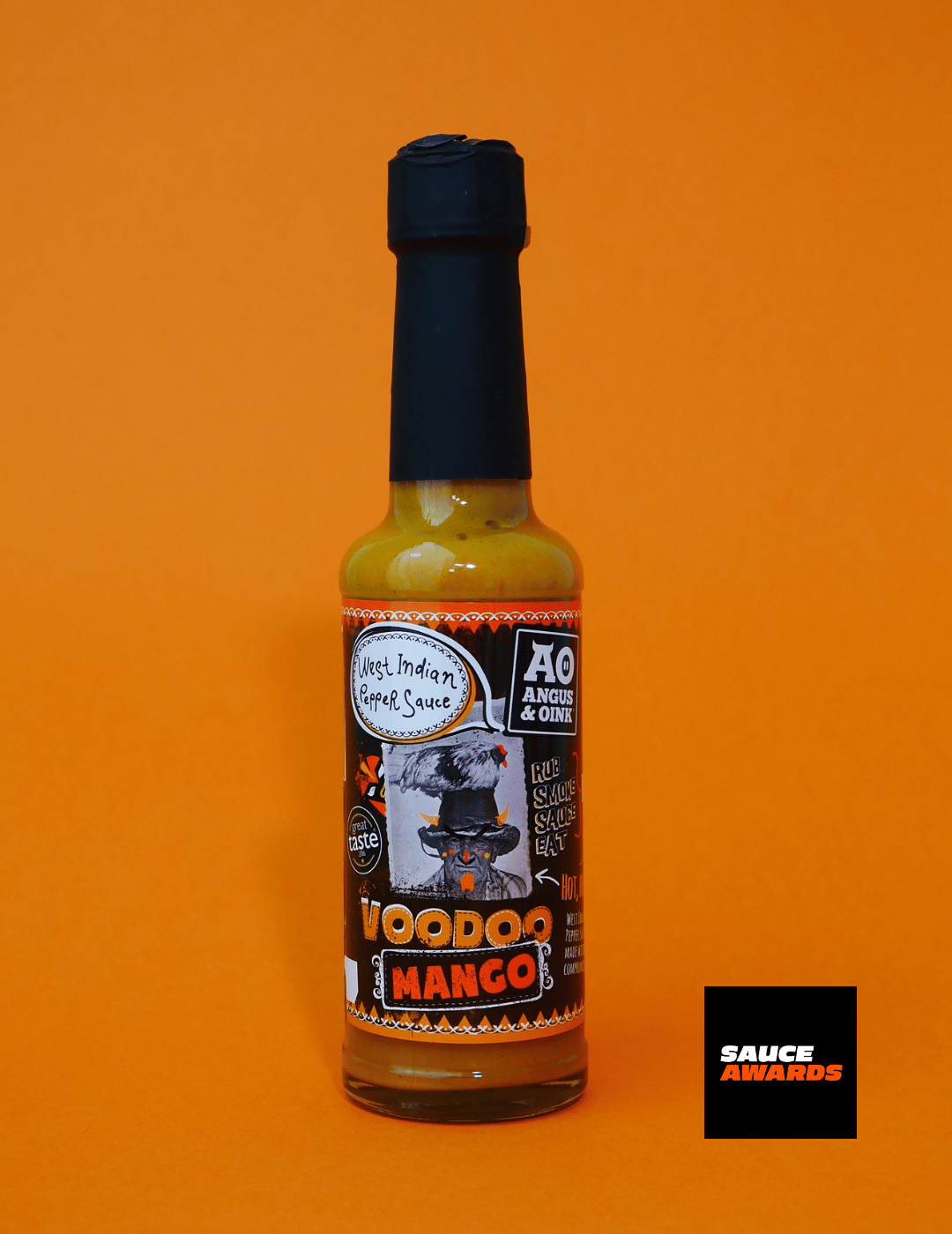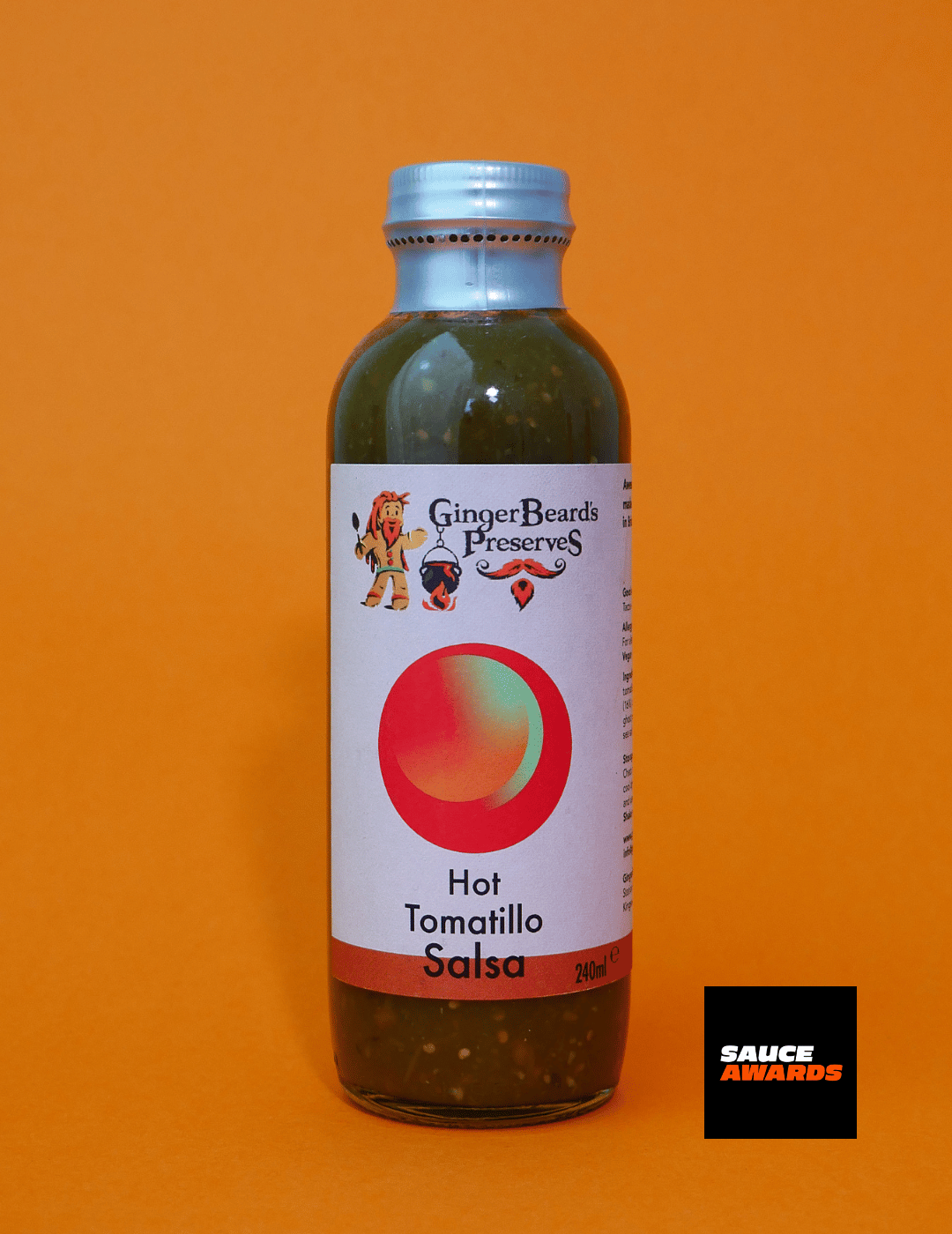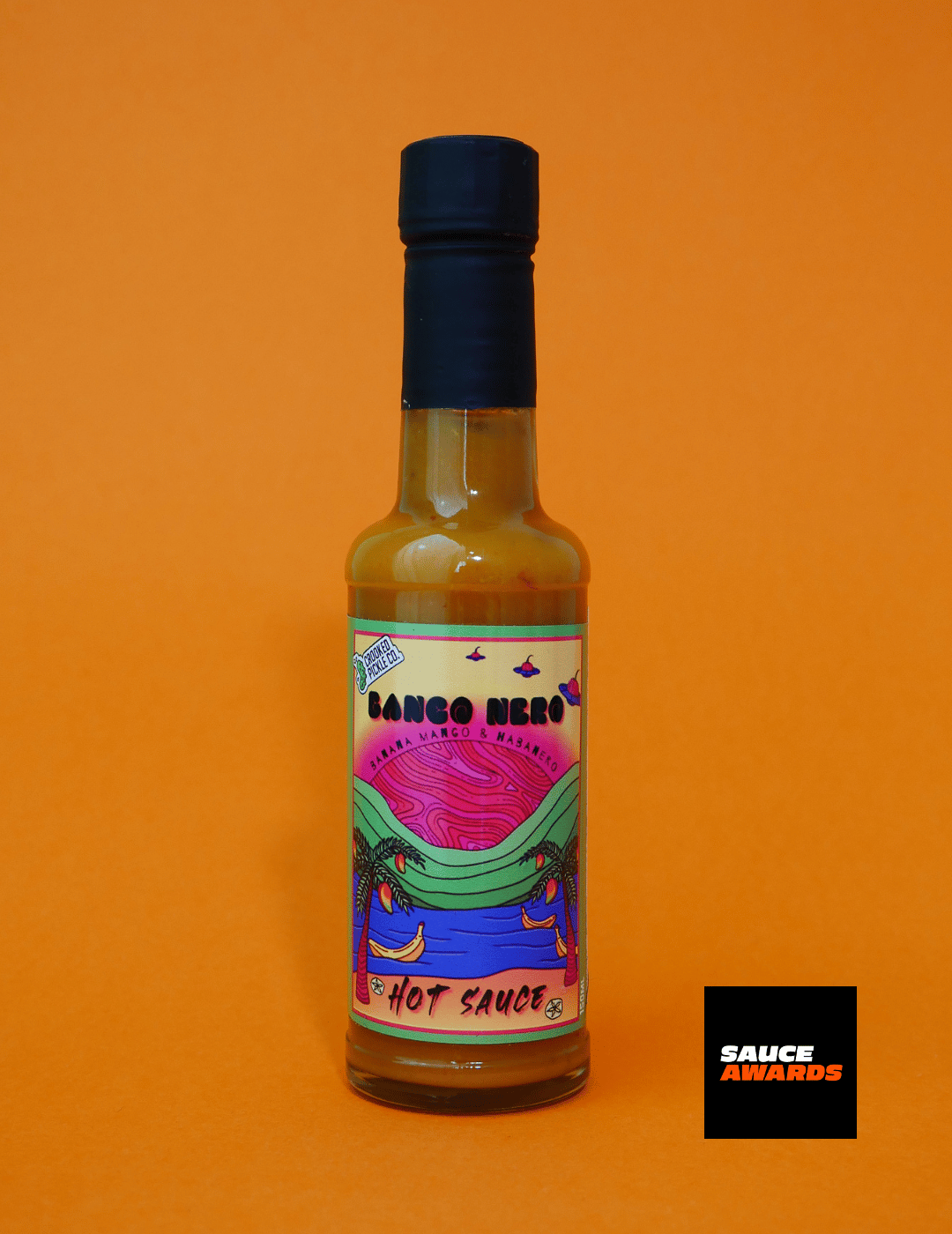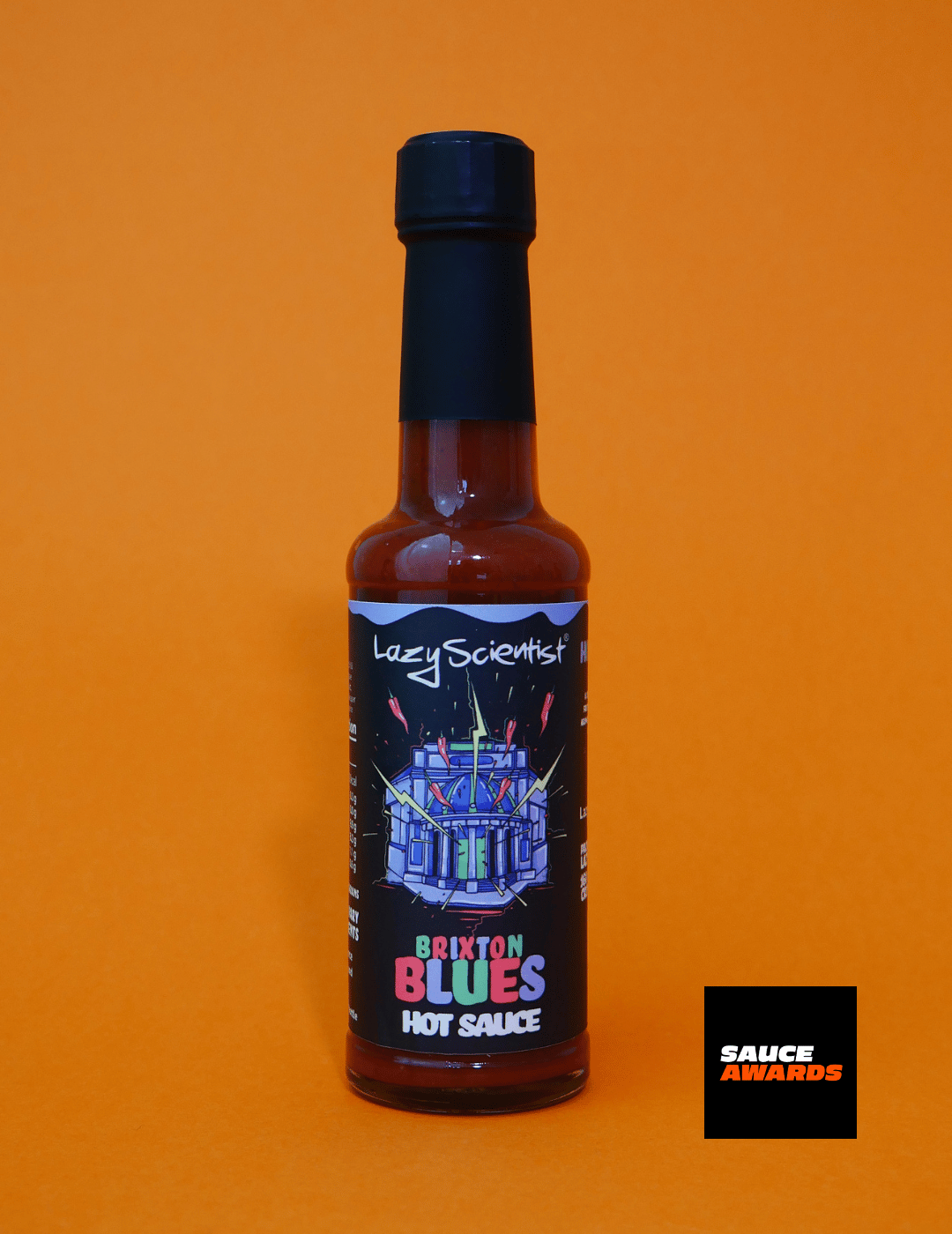 Best Collab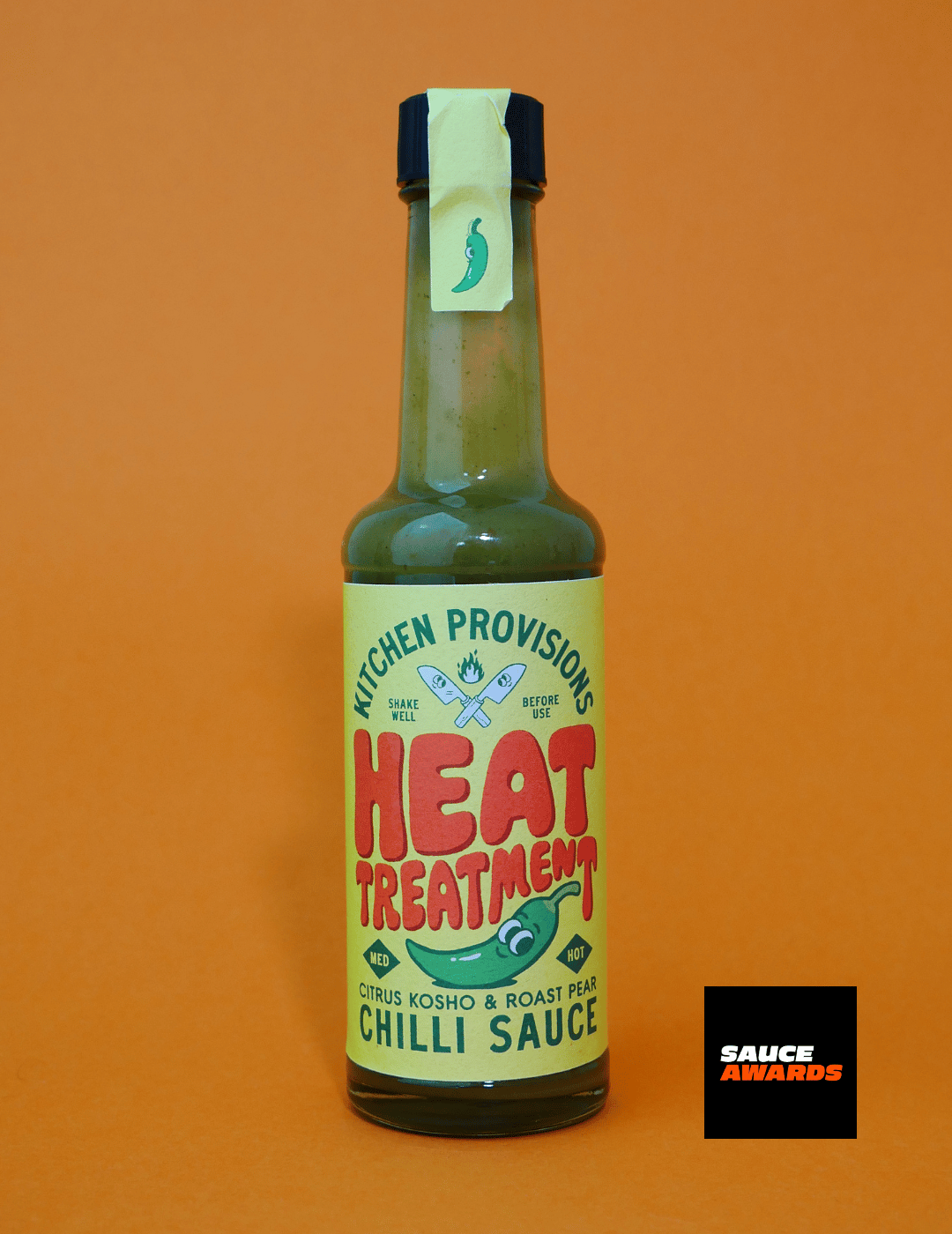 Heat Treatment by Kitchen Provisions & DevilDog's Sauces
"Heat Treatment" is a hot sauce that's as unique as they come, born from a collaboration between the creative minds at Kitchen Provisions and the hot sauce experts at Devil Dog Sauces. It's like a fusion of kitchen innovation and hot sauce artistry in one bottle. This limited edition gem captures the essence of both brands, offering a bold and zesty experience. Picture a sharp, citrusy sensation with a spicy kick, thanks to the flavors of yuzu kosho and the smoothness of roasted nashi pear. It's a taste journey that screams Japanese izakaya with a twist. Perfect for spicing up summer BBQs or even adding a dash of character to your favorite dishes.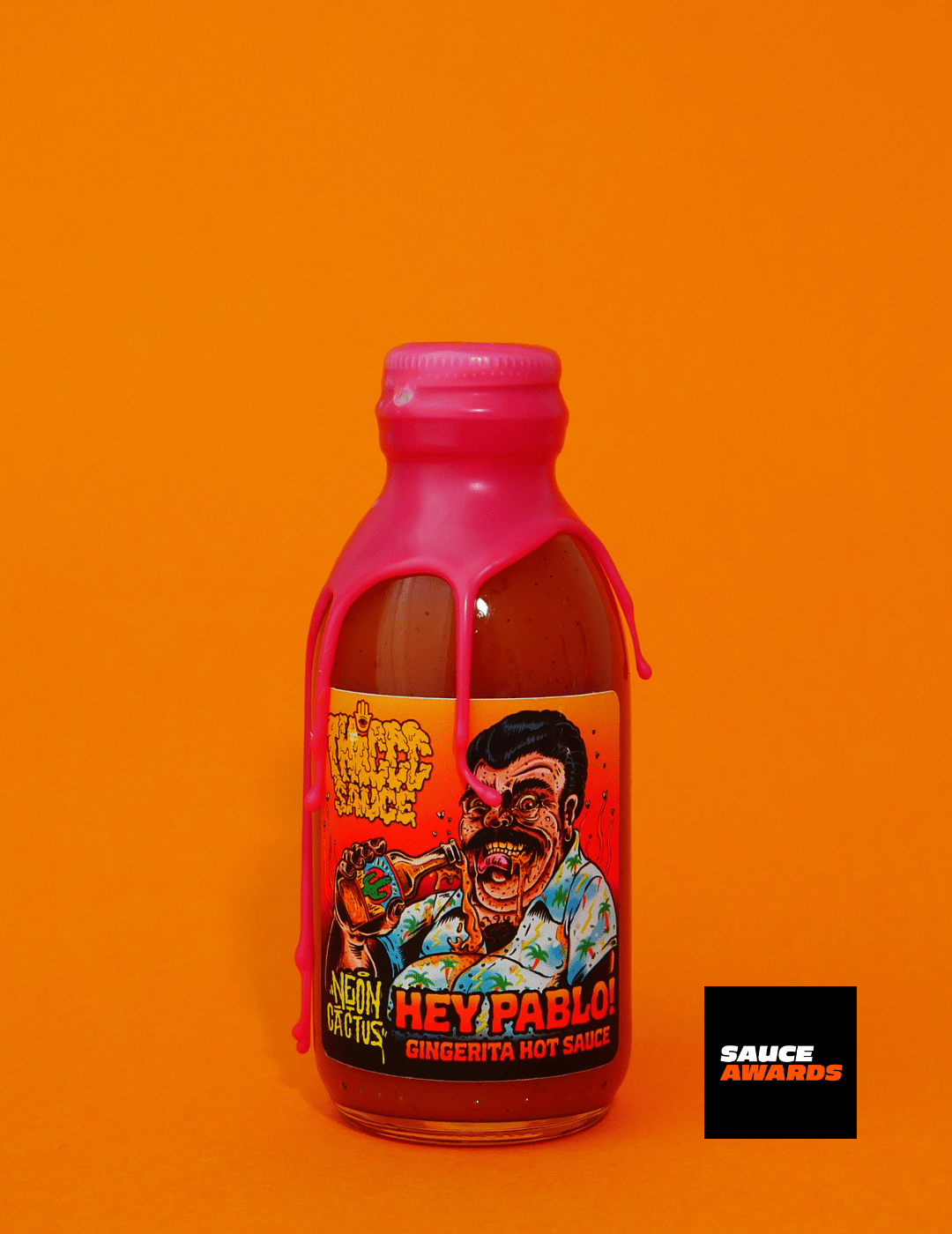 Hey Pablo by Thiccc Sauce & Neon Cactus
​​Gingerita, a quirky contender in the tequila house chaser category, demands attention with its bold barbie pink wax seal. This sauce takes Neon's homemade special juice and spins it into a wild hot sauce sensation. Anchored in a mild cayenne pepper base, it plunges into the depths of Neon's signature gingerita mix, featuring grapes, ginger, apple, lime, and dragon fruit powder. An electrifying concoction that's tailor-made to elevate your Margaritas! A harmonious blend of fruity zest and gentle heat makes this sauce a standout in the world of hot condiments. A true fiesta for your taste buds!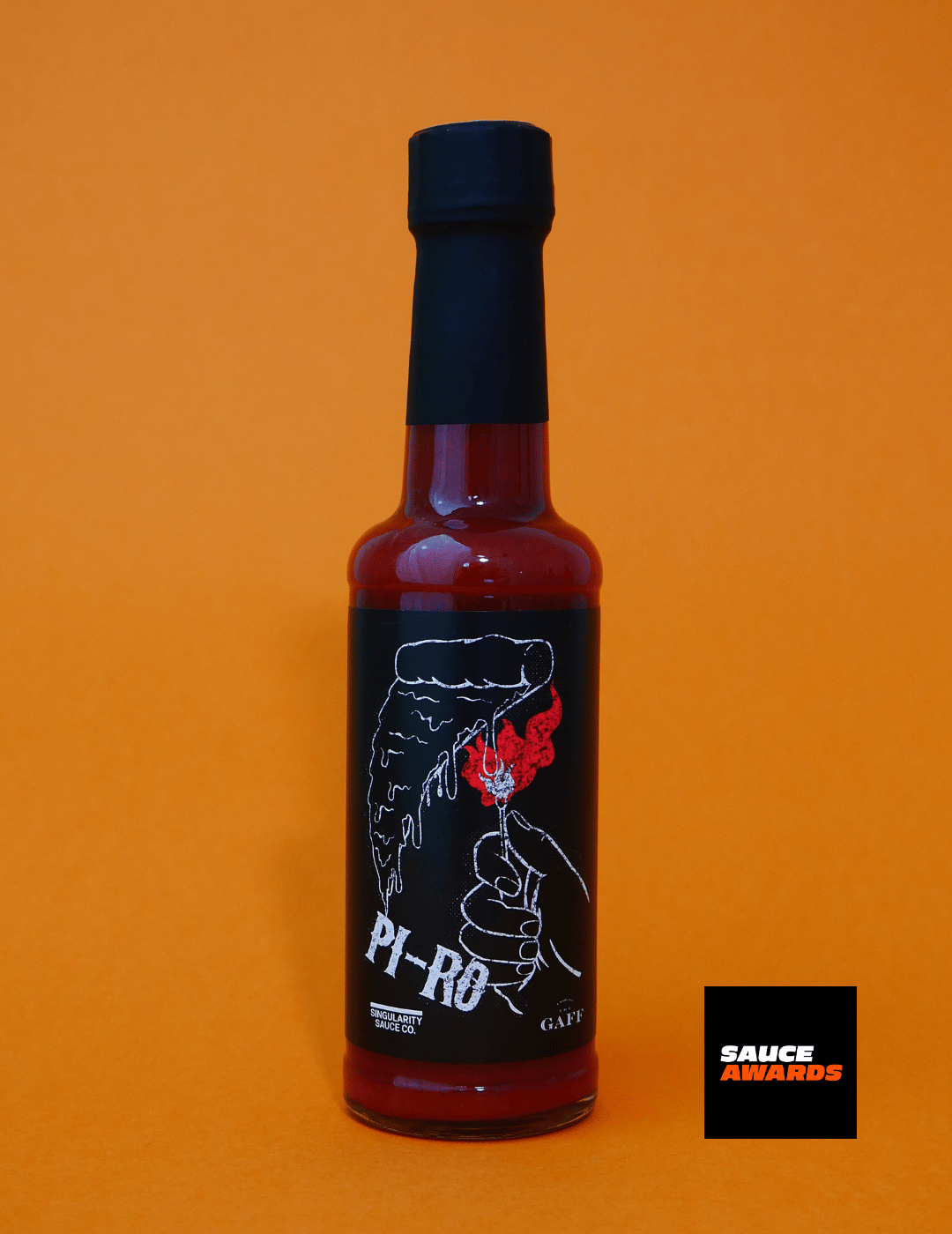 PI-RO by Singularity Sauce Co & The Gaff
PI-RO, a collaborative creation inspired by the scorching heat of a wood-fired oven, delivers a spicy symphony designed exclusively for pizza lovers. Crafted from two fermented products and a carefully selected blend of ingredients, it's a flavorful addition to elevate your pizza experience. This sauce strikes a harmonious balance of spiciness, acidity, and savory notes, enhancing the pizza's taste profile. Whether you're a pi-romaniac or a hot sauce enthusiast, PI-RO is the missing ingredient you've been craving. Visit The Gaff in Ellon, Aberdeenshire, to savor the magic of PI-RO and transform your pizza indulgence.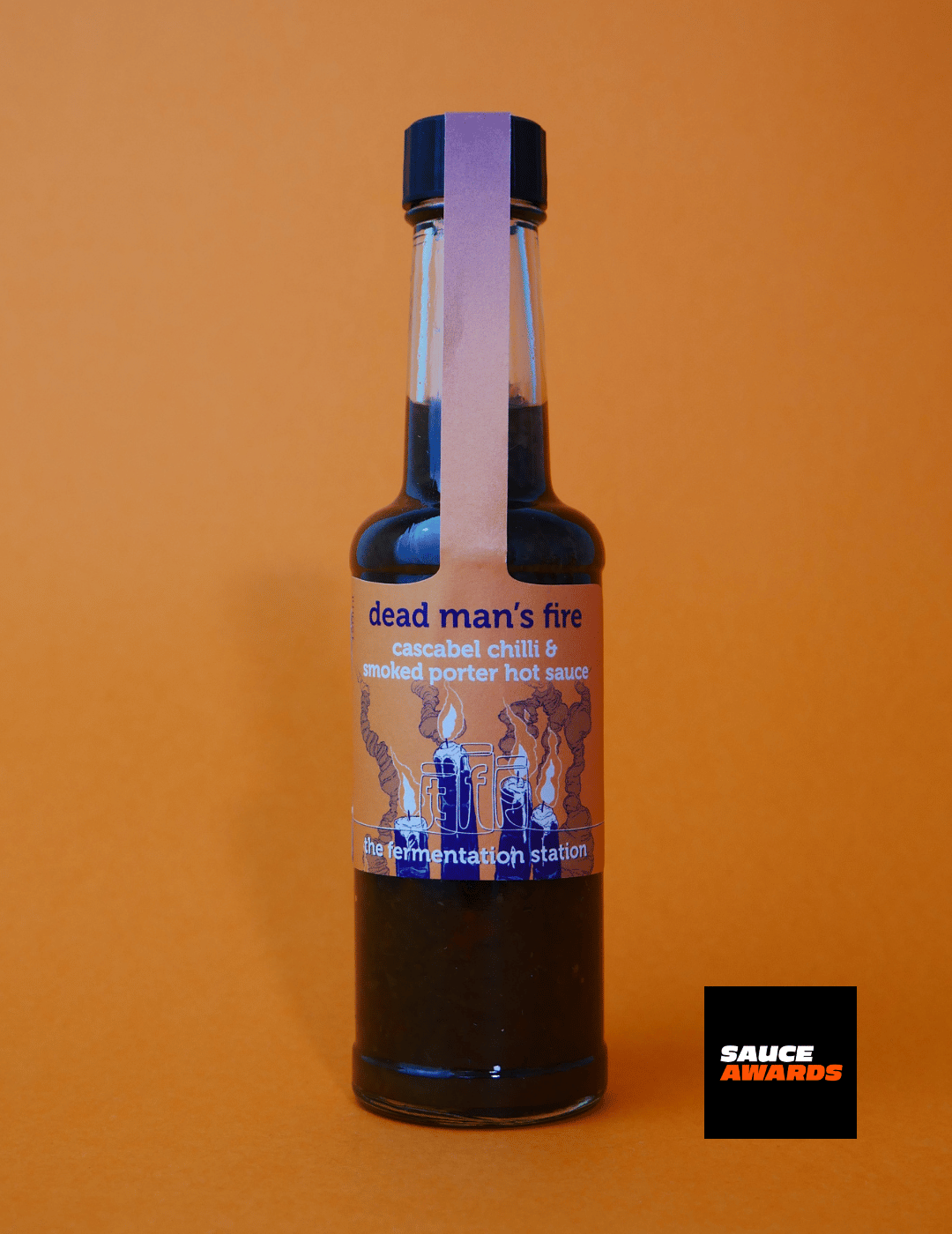 Dead Man's Fire by The Fermentation Station & Chapter Brewing
Dead Man's Fire, born from a daring collaboration with Chapter Brewing, marries the darkness of their smoked black pepper Porter, Dead Man's Fist, with the art of hot sauce. It's an inspired match, harnessing the smoky black pepper base and robust malt essence of the porter. Fermented jalapeños form the core, bolstered by cascabel chillies for heat, and tobacco and leather undertones. Fresh orange juice adds a zesty spark while fermented garlic ties it all together. This sauce boasts a profound, multi-layered flavor profile, making it ideal for bold pairings.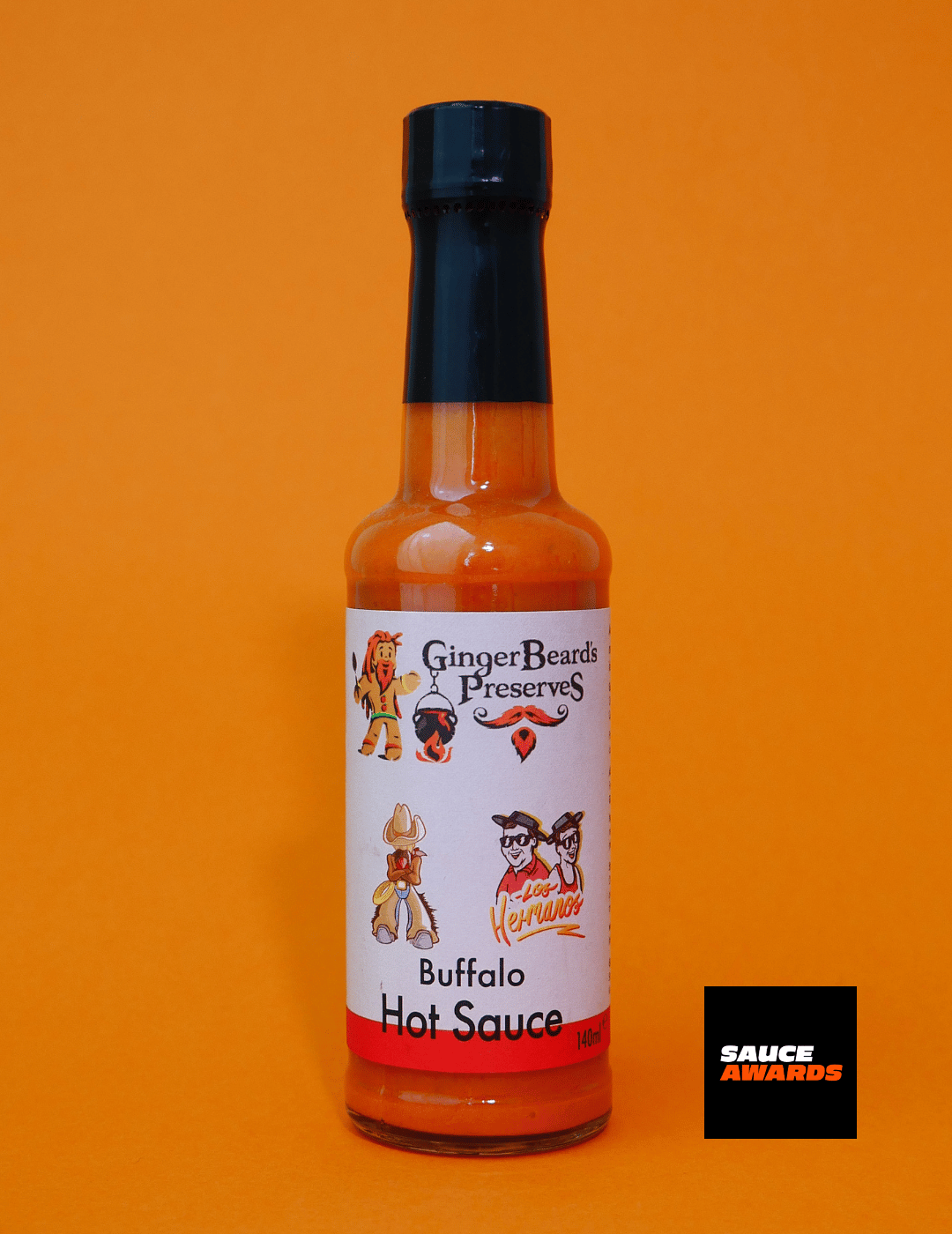 Buffalo Hot Sauce by GingerBeard's Preserves & Los Hermanos
A loving nod to the iconic American classic. Collaborating with fried chicken virtuoso Danny from Los Hermanos Combinados, they crafted a sauce that salutes tradition. This fiery elixir is tailor-made for coating chicken wings and teaming up with your beloved blue cheese dip. Its impeccable blend of heat and flavor makes it a must-have in your culinary arsenal. Whether you're a buffalo sauce aficionado or a newbie, this concoction will set your taste buds tingling with pure delight. A home run of a collaboration between these two heroes.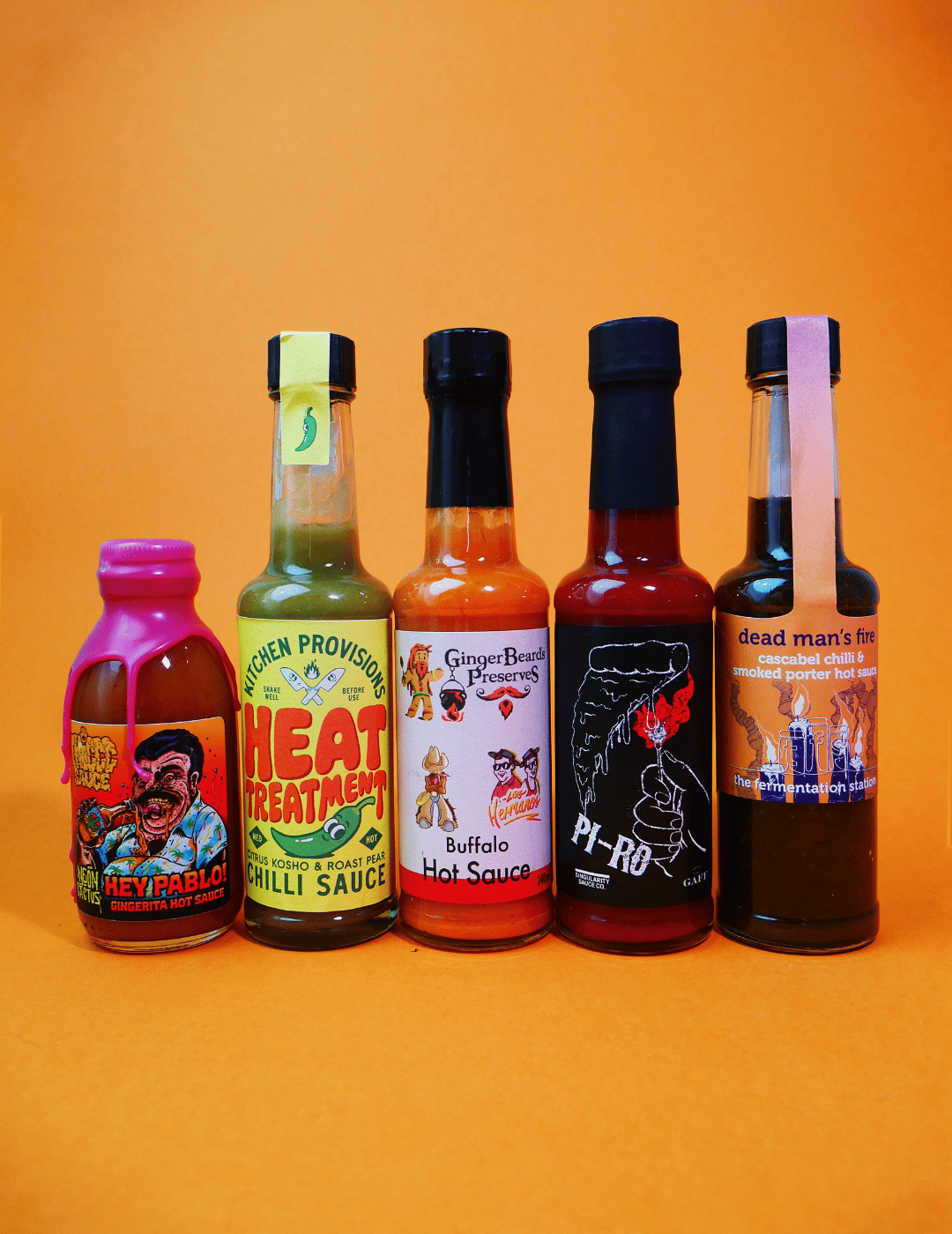 Meet our Sauce Awards 2023 best collab finalists
These five sauces were selected by the Bauce Brothers as the most exciting collaborations of 2023.

In November, we will hold a live tasting session and one of these five will be crowned champion by our expert judging panel.

Stay tuned to find out who takes home the glory.
Best Caliente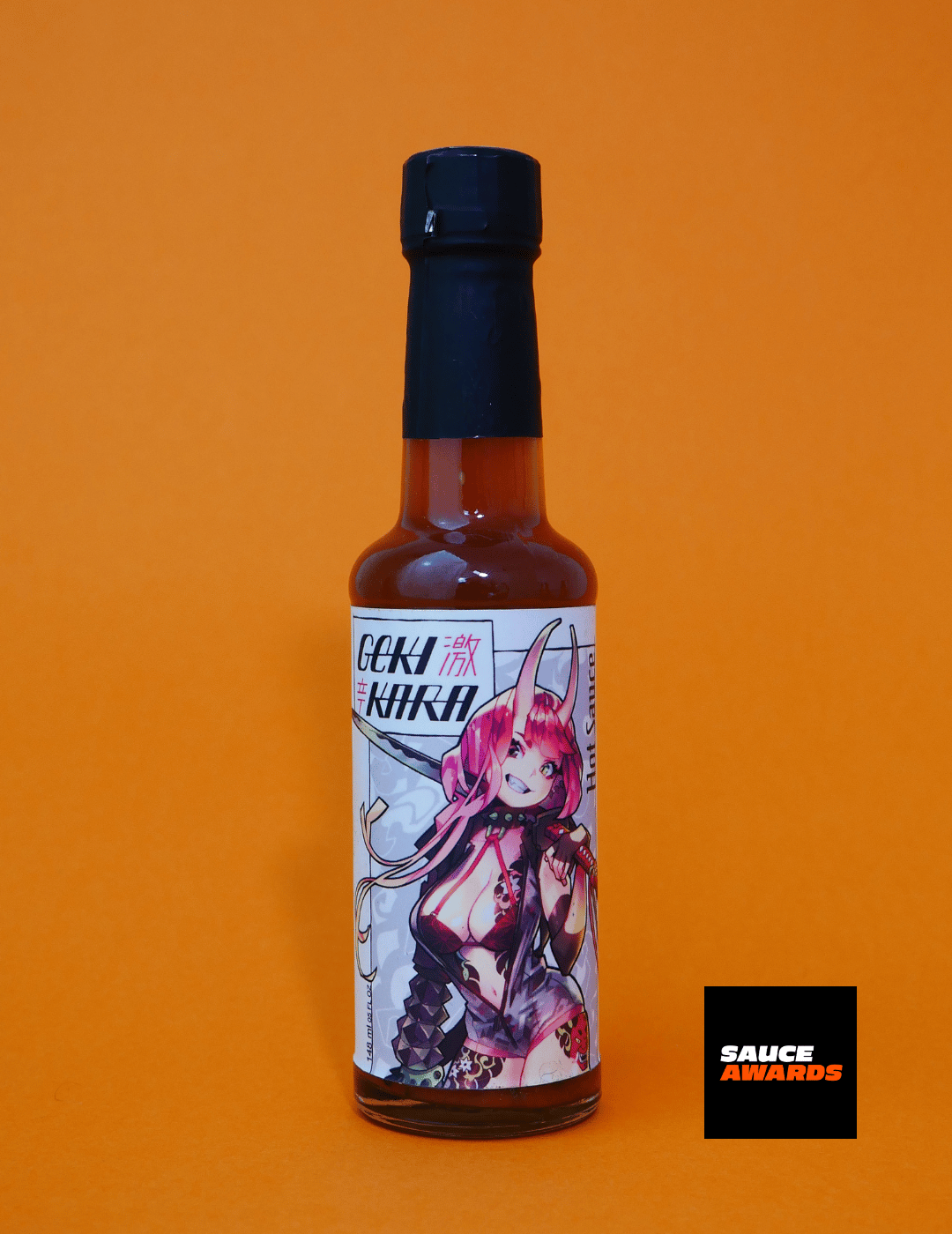 Gekikara by 3D Spice
"Gekikara" is a true heat powerhouse that masterfully blends two of the world's hottest chili peppers. Drawing inspiration from traditional Japanese spice blends and sour flavors, it delivers a unique, full-bodied taste that breathes life into dishes. With a carefully curated lineup of ingredients, including ghost jolokia peppers, Carolina reaper peppers, and a symphony of spices, this hot sauce isn't just about heat; it's about depth of flavor. From organic apple cider vinegar to aromatic ginger and Sichuan pepper, every element plays a role in crafting a sauce that's both intense and balanced.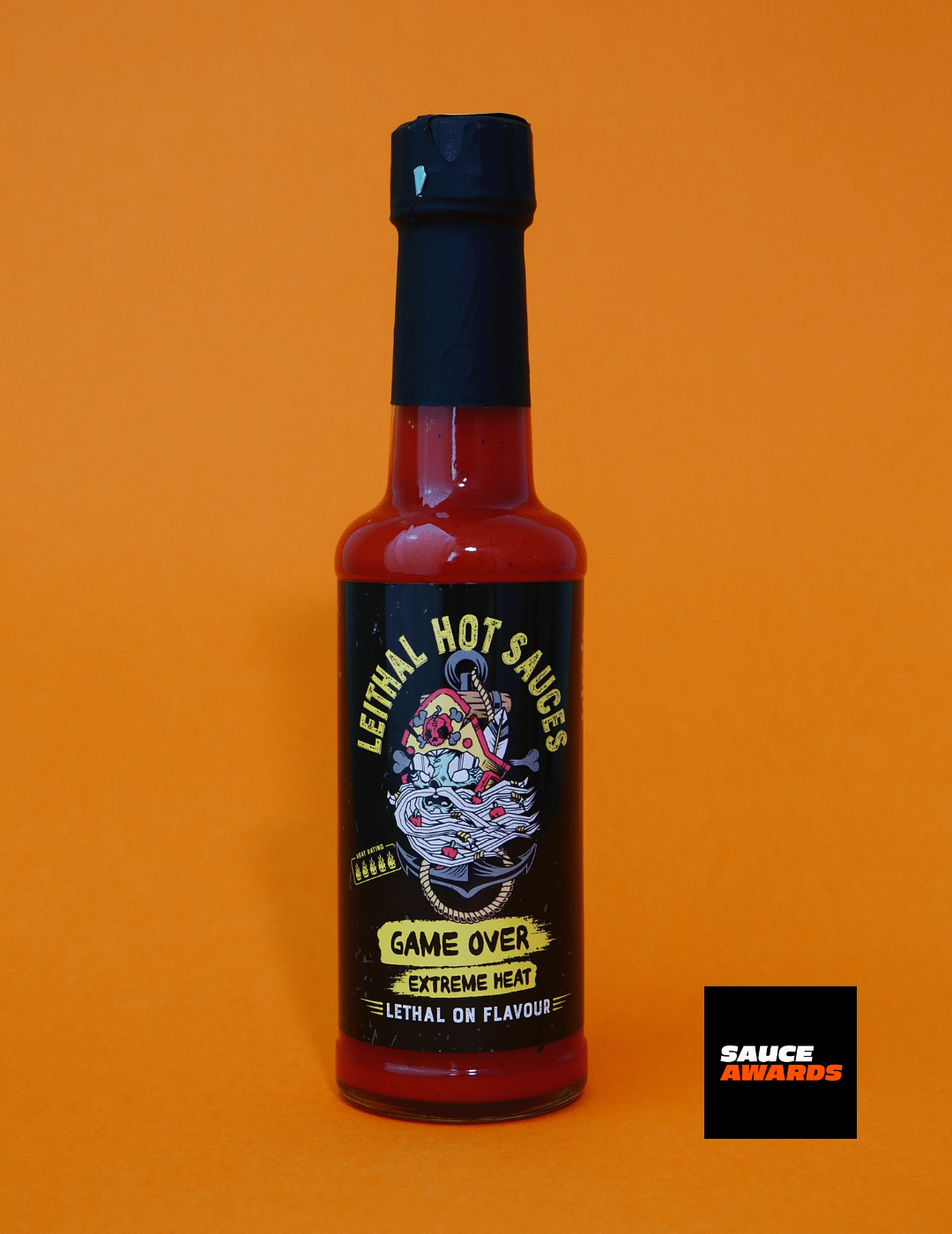 Game Over Leithal Hot Sauce
"This sauce isn't playing around!" Indeed, "One for the real heat heads," this sauce is a fiery masterpiece. It boldly combines the fearsome trio of Carolina Reaper, Trinidad Scorpion, and Ghost Chili peppers, guaranteeing an intense heat experience. But it's not all about the fire; roasted red peppers and spices provide a flavorful backbone that sets it apart. This sauce proves that it can bring the heat while maintaining substance and depth of flavor. It's a hot sauce crafted for the most daring taste adventurers, and it unquestionably deserves recognition as a pinnacle of heat and flavor in the hot sauce awards. A true fiery marvel!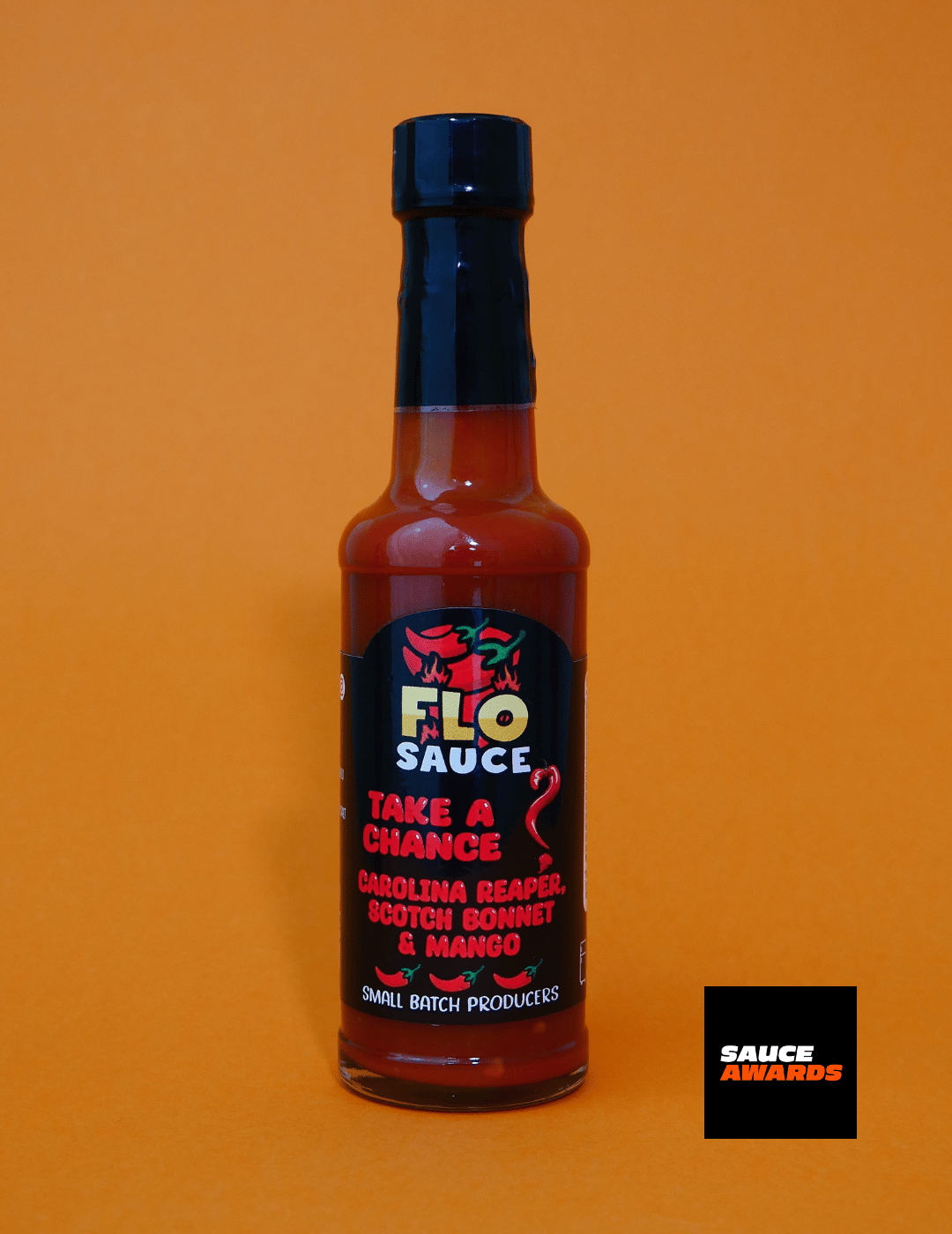 Take a Chance by Flo Sauce
This "BOSS Sauce" is a relentless flavor explosion that deserves top honors. From the moment it touches your palate, it delivers a symphony of flowing flavors, packing an intense heat with a subtle sweetness that keeps you coming back for more. Versatile enough to complement any dish, it even stands up to the challenge of pairing with other hot sauces, water, and milk. This sauce is undeniably a boss in the world of condiments, showcasing the perfect balance of boldness and versatility.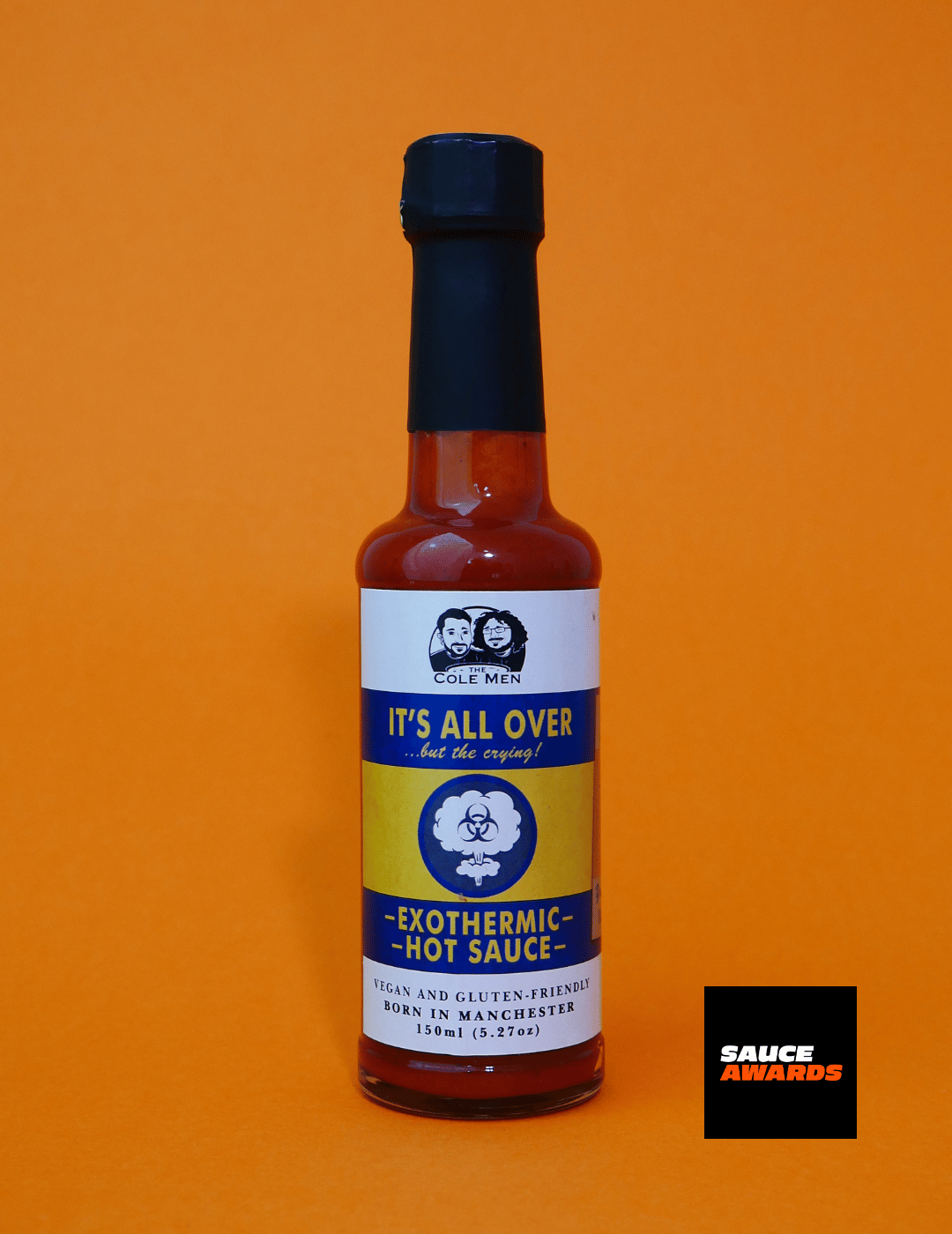 It's All Over by The Colemen
Prepare for a flavor adventure with "Fermented Reaper Sauce," a hot sauce that redefines spice technology. Crafted with dried Reaper and Scorpion peppers, it delivers a fiery kick that's not for the faint of heart. This condiment is a culinary powerhouse, designed to elevate every dish with intense chili and heat. It packs a punch that can rival even the fiercest Super Mutant on their grumpiest day. Whether you're exploring the wastelands or enjoying a gourmet meal, "Fermented Reaper Sauce" is your trusty companion for an unforgettable taste journey.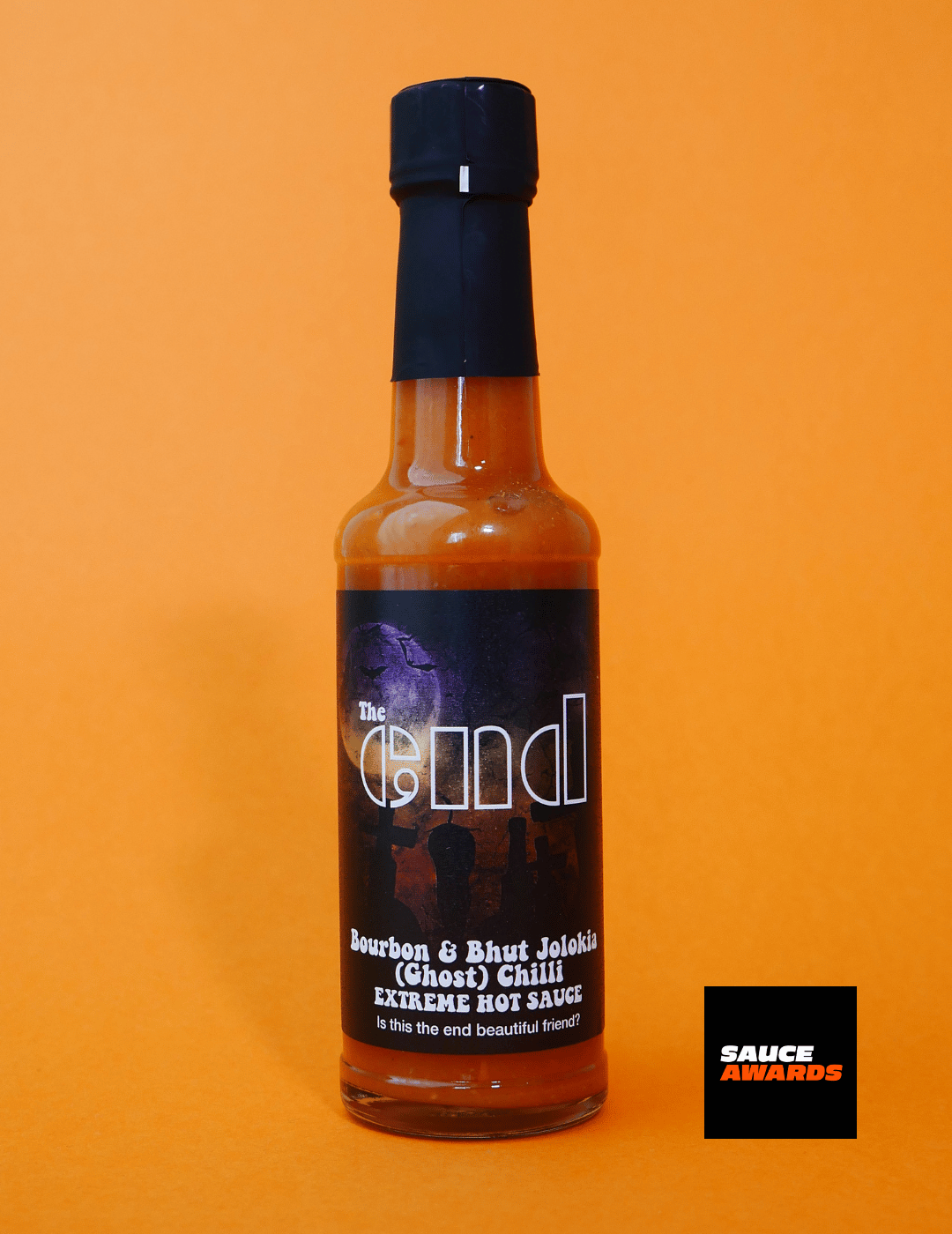 The End by The Upton Cheyney Chili Farm
"The End," the final offering in the 'Trio of Doom' series, pays tribute to rock's wild spirit, Jim Morrison of The Doors. This sauce brings extreme heat courtesy of the mighty Bhut Jolokia/Ghost Pepper, with a twist of Jack Daniels Bourbon. Based on carrots and onions, it cleverly uses lime juice to carry the smoky Ghost Pepper flavors. While undeniably hot, it surprises with bold and delicious undertones. Is this the end? Well, it's the end of bland dishes. With ingredients like Carrot, Onion, Cider Vinegar, Lime Juice, Bhut Jolokia/Ghost Pepper, and Jack Daniels Bourbon.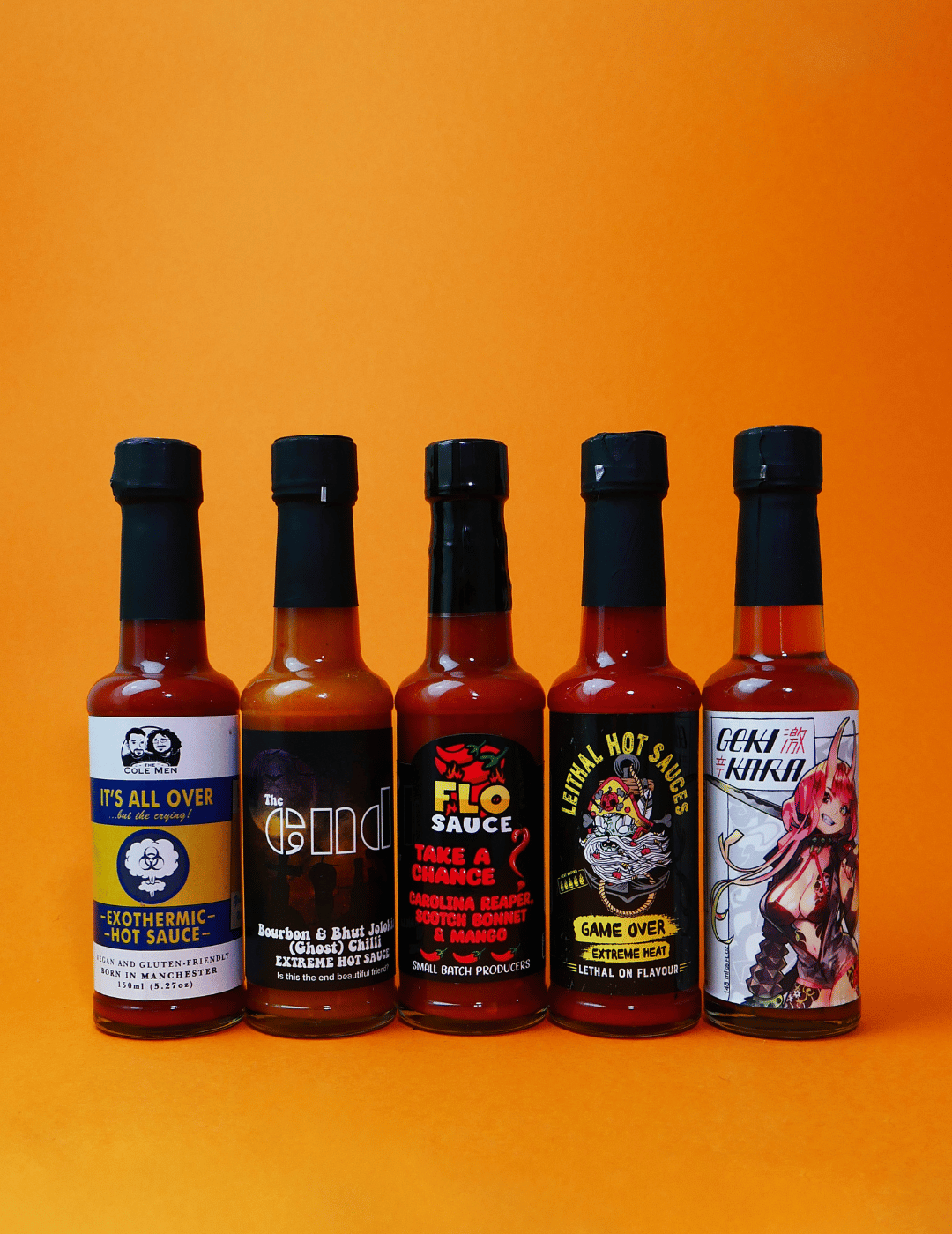 Meet our Sauce Awards 2023 best caliente finalists
These five sauces were selected by the Bauce Brothers as the most exciting super hot sauces of 2023.

In November, we will hold a live tasting session and one of these five will be crowned champion by our expert judging panel.

Stay tuned to find out who takes home the glory.
Best Classico
Louisiana by Chorrito Sauce
This Louisiana-style hot sauce is a harmonious blend of aged Cayenne, Red Jalapeño, and a generous handful of habaneros. It's the ultimate companion for transforming ordinary dishes into culinary masterpieces. Whether you're spicing up chicken wings, adding a kick to gumbo, or creating a delectable lobster roll, this sauce has you covered. The combination of Red Jalapeño, aged Cayenne, habanero, garlic, celery, white wine vinegar, and sea salt creates a flavor symphony that's nothing short of exceptional. It's a hot sauce that's both versatile and bold, deserving recognition as a standout in the world of fiery condiments. A true taste adventure awaits!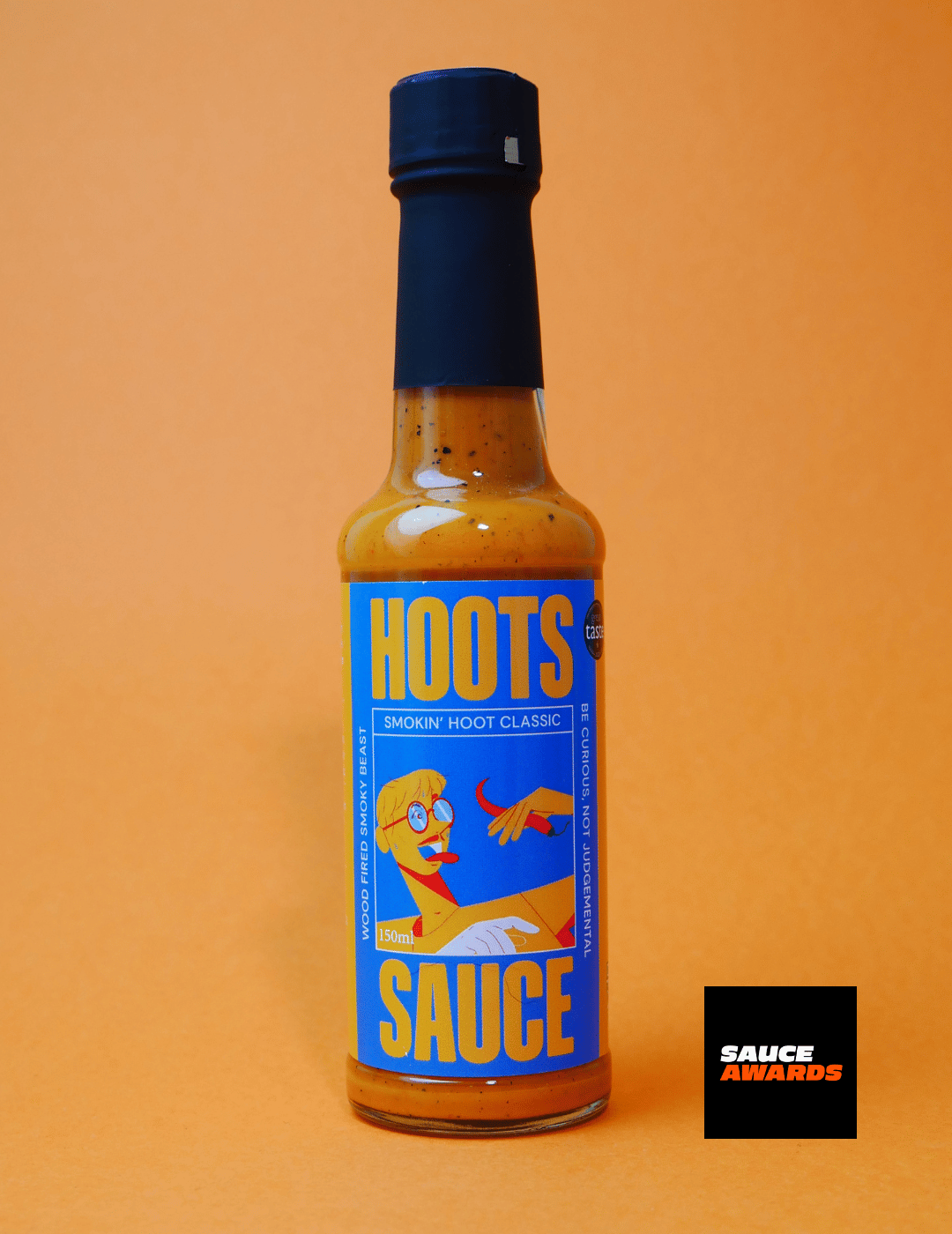 Woodfire Hot Sauce by Hoots
Hoots Sauce, a Scottish-inspired creation, hailing from the heart of Bruton, is a handcrafted, small-batch masterpiece. Chef Bruce Clyne-Watson's fiery passion led to this exceptional hot sauce. It captures the essence of the Highlands with scotch bonnet chilis, scorched and smoked over native sustainable wood and charcoal before undergoing fermentation. This sauce embodies Scotland's spirit with a blend of Scotch bonnet chili, Moroccan red chili, Swede, red pepper, rapeseed oil, garlic, salt, chili seeds, and Xanthan Gum. It's a flavor journey that balances heat and complexity, a true gem in the world of hot sauces. Bruce's creation deserves a spot in the hot sauce hall of fame!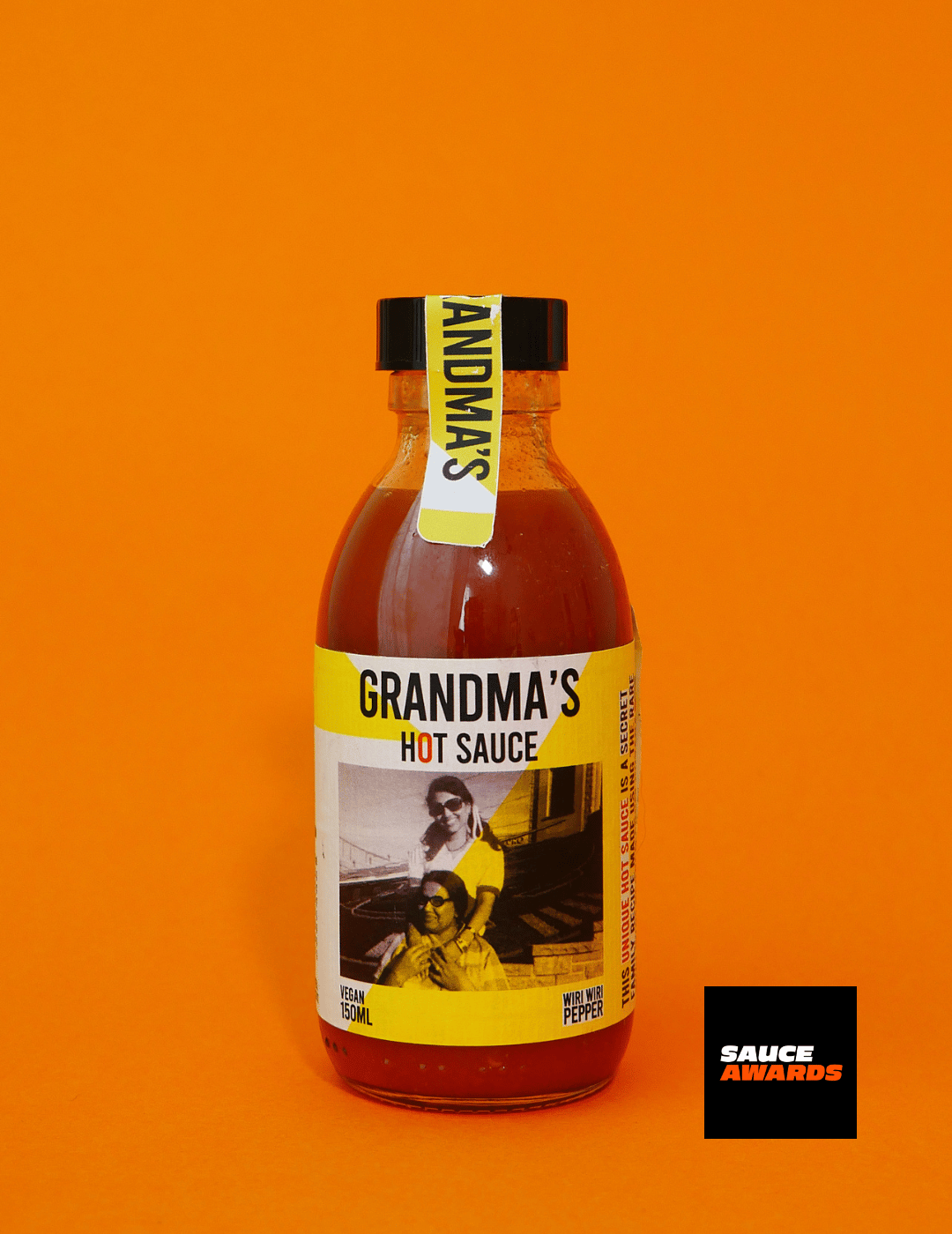 Hot Sauce by Grandma's Hot Sauce
This hot sauce is like a flavor wizard! It combines Wiri Wiri and scotch bonnet peppers for some spicy pizzazz, and then it adds a touch of sweetness from carrots and a cool breeze from cucumber. Just a few drops, and you've turned your regular dishes into superstar meals. Seriously, it's like a secret ingredient for instant awesomeness. The perfect blend of heat and flavor, this sauce takes your taste buds on a rollercoaster ride of deliciousness. It's the kind of sauce you'll wonder how you ever lived without – a real game-changer for your kitchen adventures!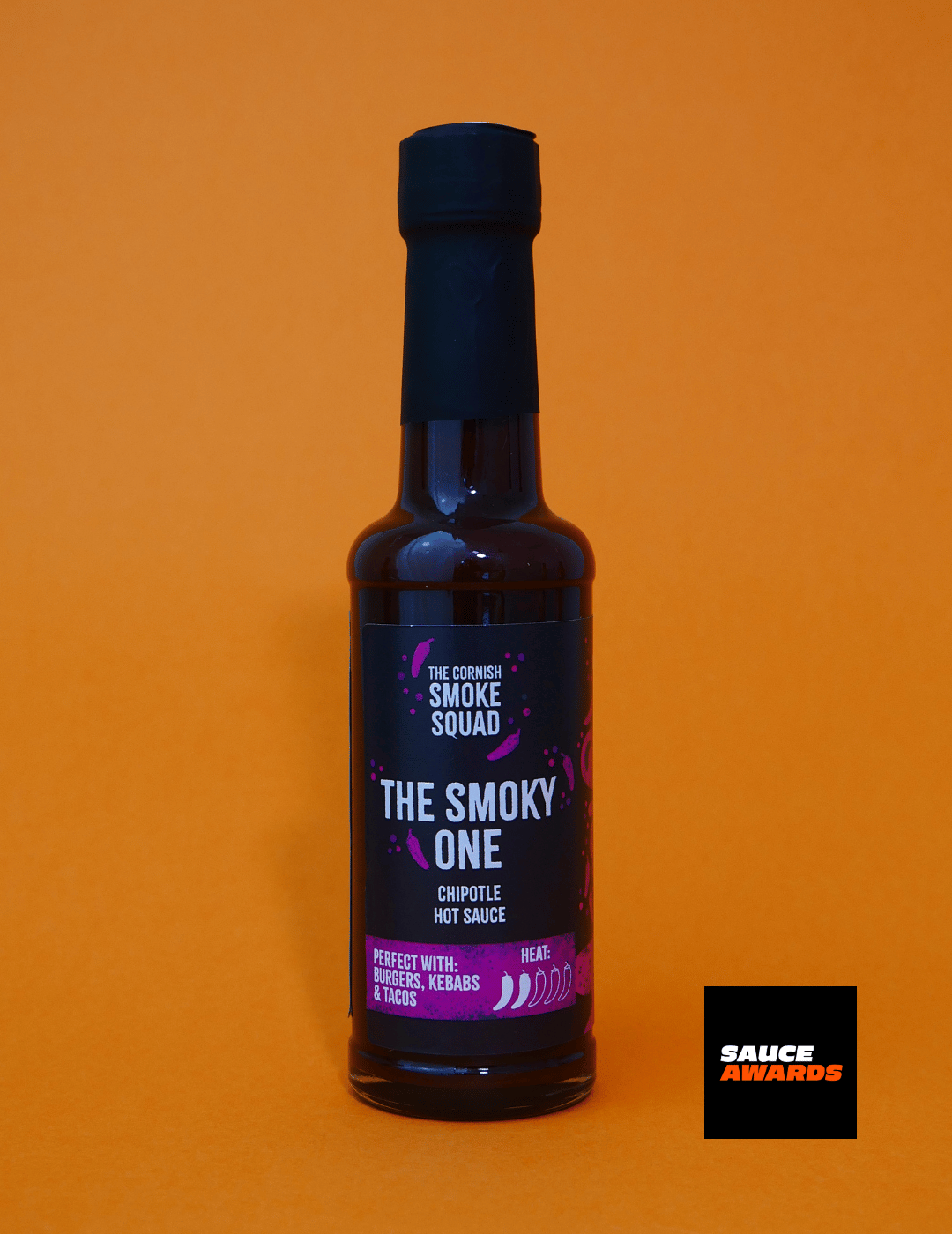 The Smokey One by The Cornish Smoke Squad
Prepare to elevate your taste buds to fiery new heights with "The Smoky One!" This chipotle hot sauce doesn't just pack a punch; it's a flavor explosion that'll have you jumping out of your seat in delight. The intense smoky notes in this sauce are sure to set your taste buds ablaze, making it the perfect addition to your culinary fiesta. Whether you're spicing up your favorite dish or exploring new flavor horizons, "The Smoky One" is your trusty sidekick for a sizzlin' good time!
The Fruity Goan by The Cheeky Indian
"Hot & Sweet Sauce" is a tropical treasure that marries fresh, vibrant sweetness with the fiery might of matured chili. This pourable nectar delivers a fruity and spicy symphony that's reminiscent of the vibrant food shacks along the Goan Coast. It's seriously delicious, striking a perfect balance between its hot and sweet elements. This sauce is an epitome of culinary excellence, transforming any dish into a flavor sensation. A standout creation worthy of accolades in the world of hot sauces.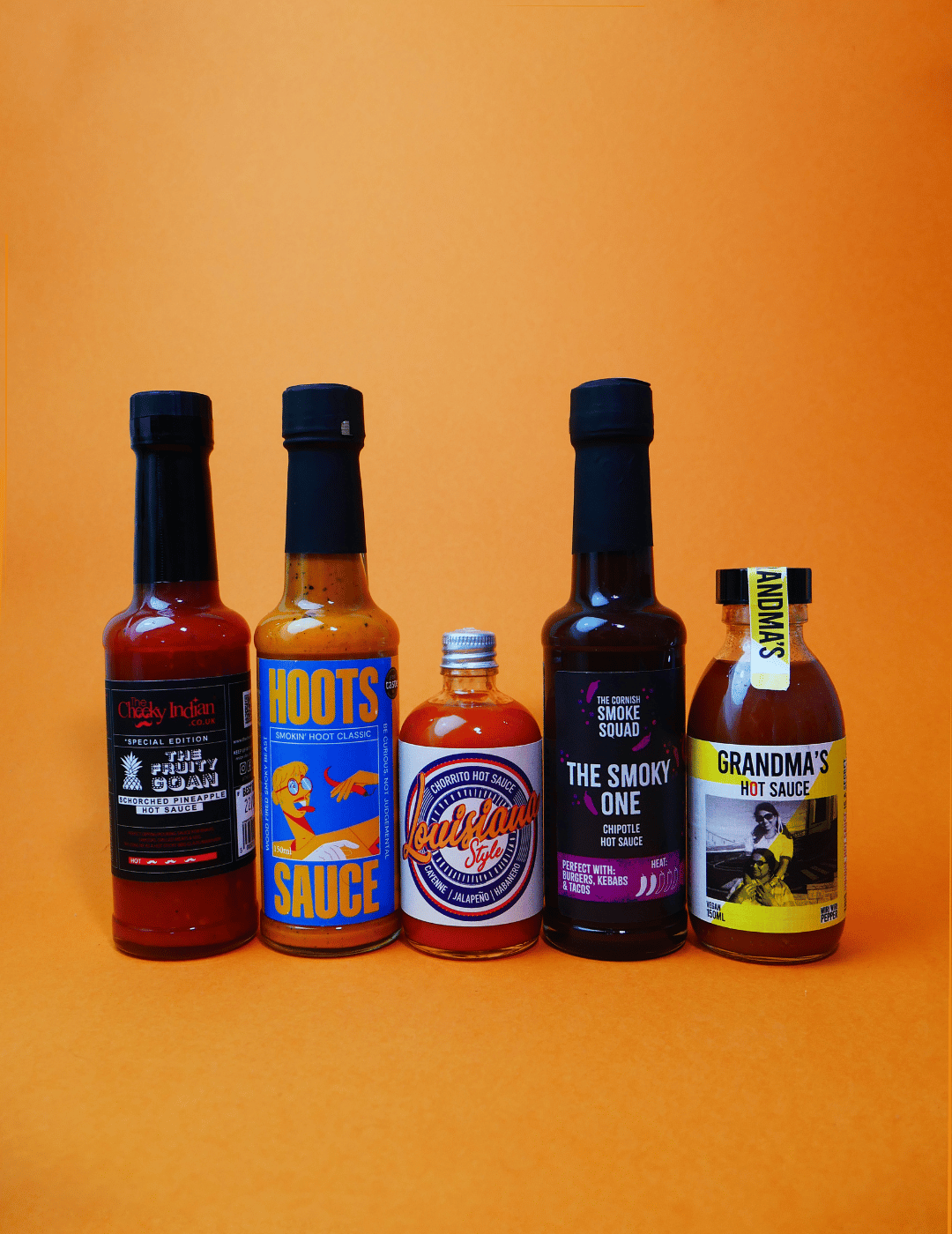 Meet our Sauce Awards 2023 best classico finalists
These five sauces were selected by the Bauce Brothers as the most exciting all purpose table sauces of 2023.

In November, we will hold a live tasting session and one of these five will be crowned champion by our expert judging panel.

Stay tuned to find out who takes home the glory.
Best Wild Card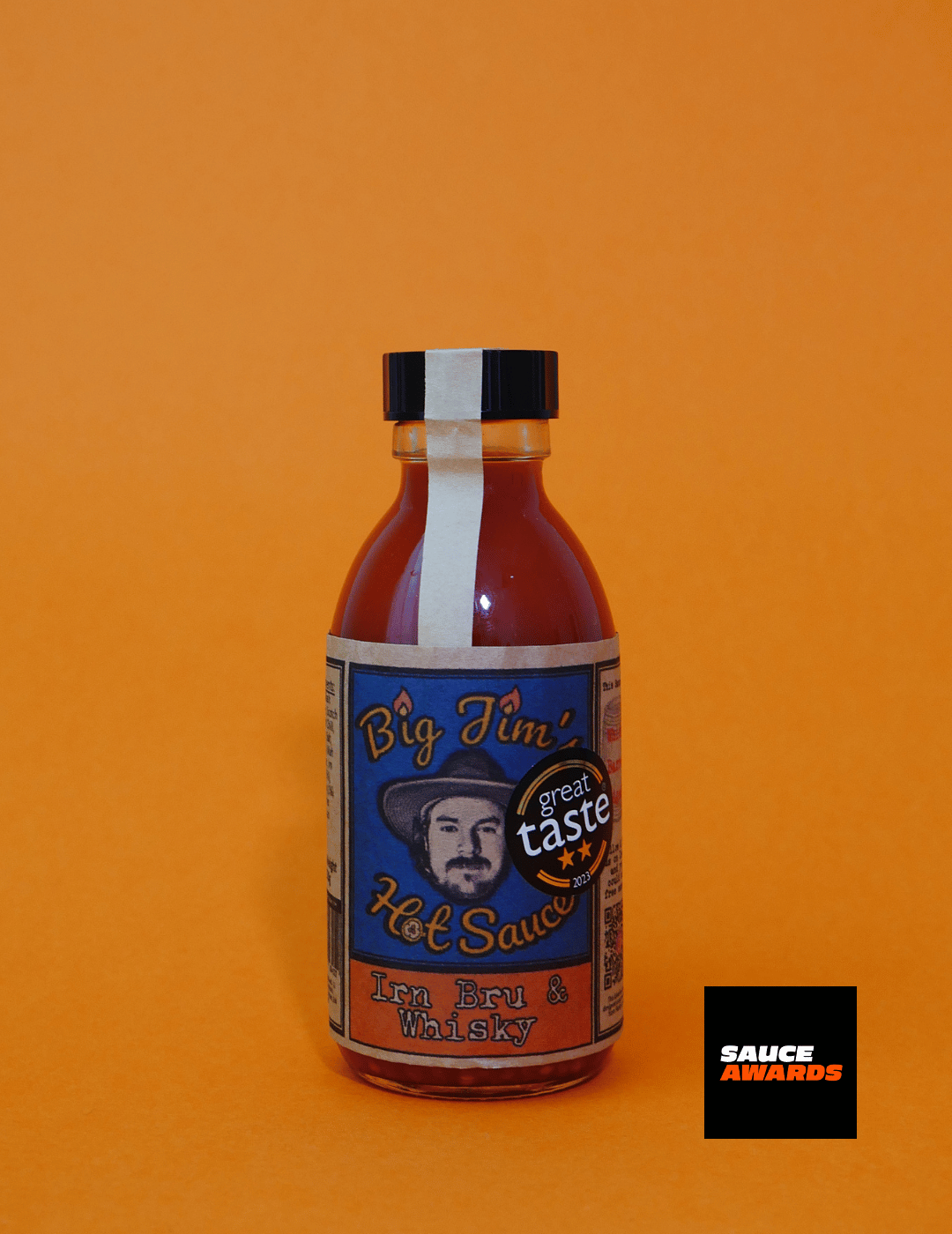 Irn Bru by Big Jim's
Embrace the heart of Scotland with this extraordinary hot sauce. It brings together the quintessential flavors of Scotland - Whisky and Irn Bru® - in a sweet, tangy, and smoky concoction meticulously crafted in Edinburgh. Infused with Scotch Bonnet Chilli aged in whisky barrels, it embodies the spirit of Scotland's feisty character. This unique blend of Chilli Mash, Malt Vinegar, Irn Bru® (5%), and Whisky (1%) creates a harmonious flavor symphony that pays homage to Scottish heritage. It's a Highland journey in a bottle, deserving of its place in the hot sauce hall of fame!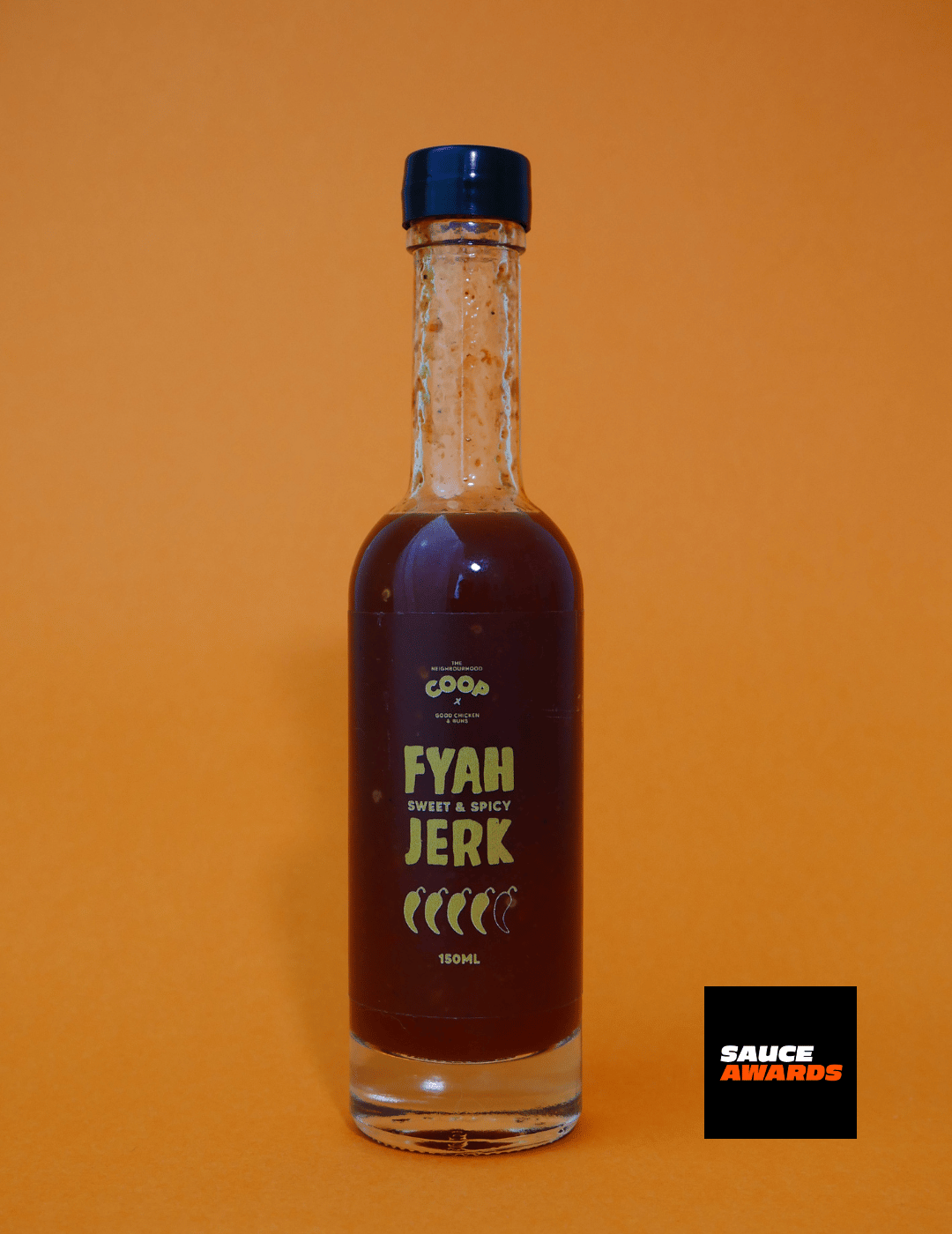 Fyah Jerk by The Fyah Sauce Co.
Fyah Jerk, a Caribbean-inspired gem, pays homage to its roots with a tantalizing blend of island herbs and spices, including the beloved pimento. This sauce is a flavor rollercoaster, starting with a mouthwatering sweetness and finishing with the fiery punch of fresh, fruity Scotch Bonnet peppers. It's a vibrant celebration of Caribbean cuisine, beloved by taste aficionados and newcomers alike, proven by its impressive sales from the food truck. While jerk dishes take the spotlight, it's the sauce that steals the show, and Fyah Jerk captures that enchantment.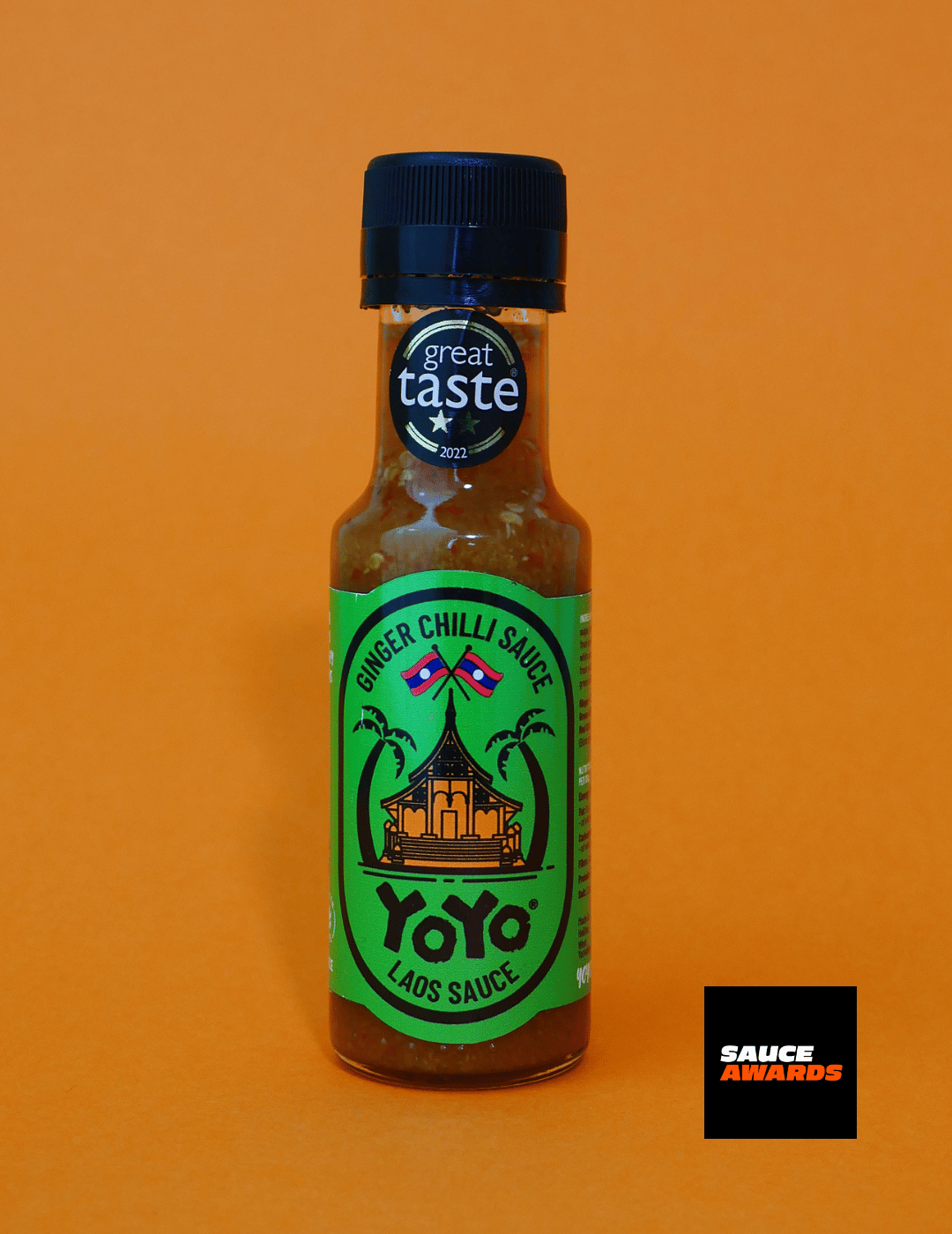 Yoyo Laos Sauce by Yoyo Laos Sauce Ltd
Get ready for a spicy adventure straight from Laos with Yoyo Laos Sauce! If you've never had a sauce from Laos before, you're in for a treat. It's all about freshness, flavor, and a bit of heat, just the way they like it. This sauce is like a flavor bomb, with fresh ginger, chili, and garlic – perfect for dipping, marinating, or adding some zing to your stir-fries and salads. It's the Southeast Asian hot sauce you didn't know you were missing out on! Trust me, this one's a game-changer, and it's about time you gave it a shot. Your taste buds will thank you!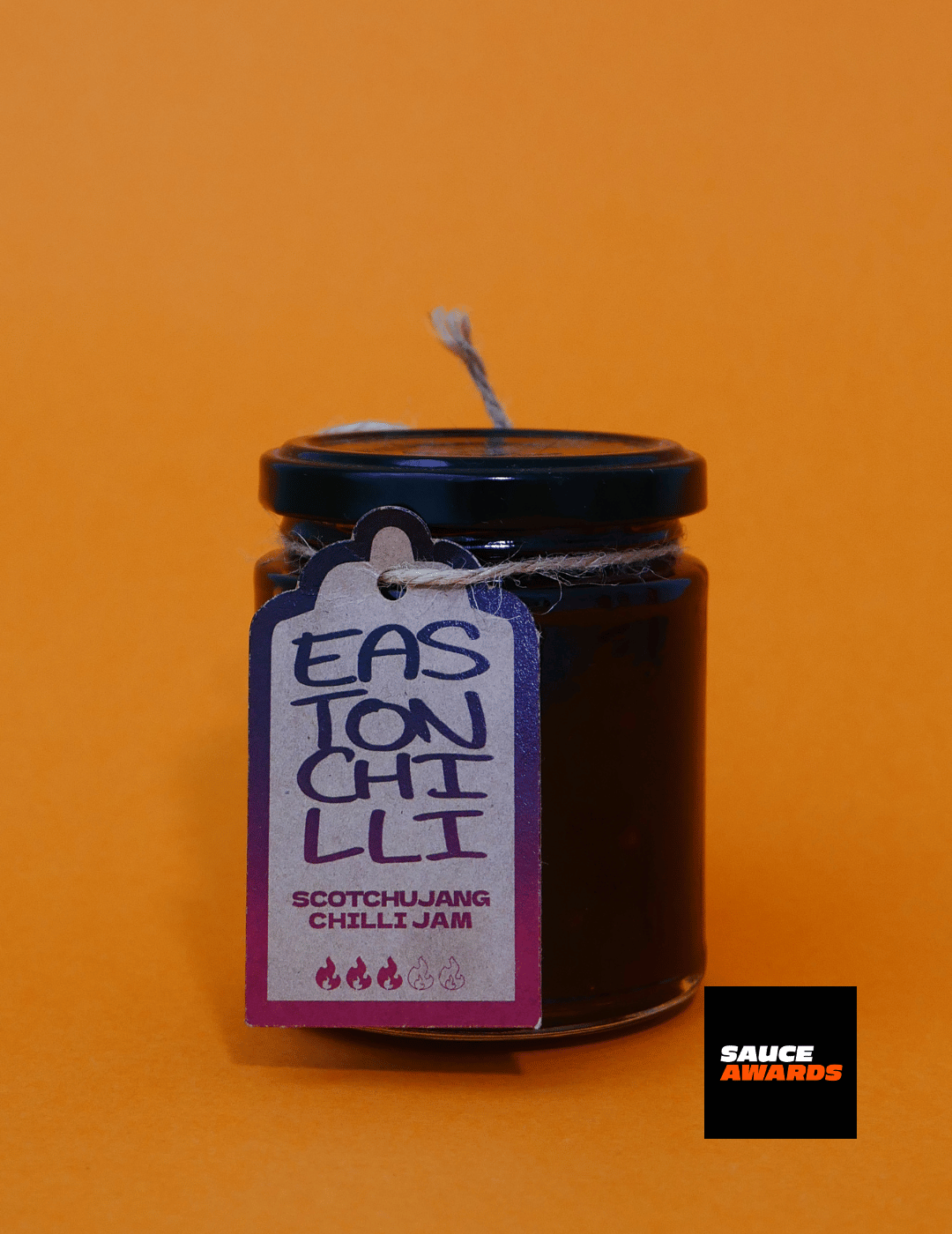 Scotchujang by Easton Chilli
Scotchujang Chilli Jam is a fiery delight for those craving an extra punch of heat. This little jar is a powerhouse of spiciness, ranking a solid 3/5 on the heat scale, making it a favorite for chili enthusiasts. It takes the foundation of the original recipe and dials up the flavor intensity. Gochujang, the Korean fermented red pepper paste, is the star here, lending its unique character to this chilli jam. The dark, complex, and smoky notes come from charred yellow peppers, gochujang, balsamic vinegar, and smoked salt. Sweetness is balanced with gochugaru, scotch bonnets, and raw cane sugar. Expect an initial quick heat from extra birds' eye chilies, followed by an earthy undertone from gochujang.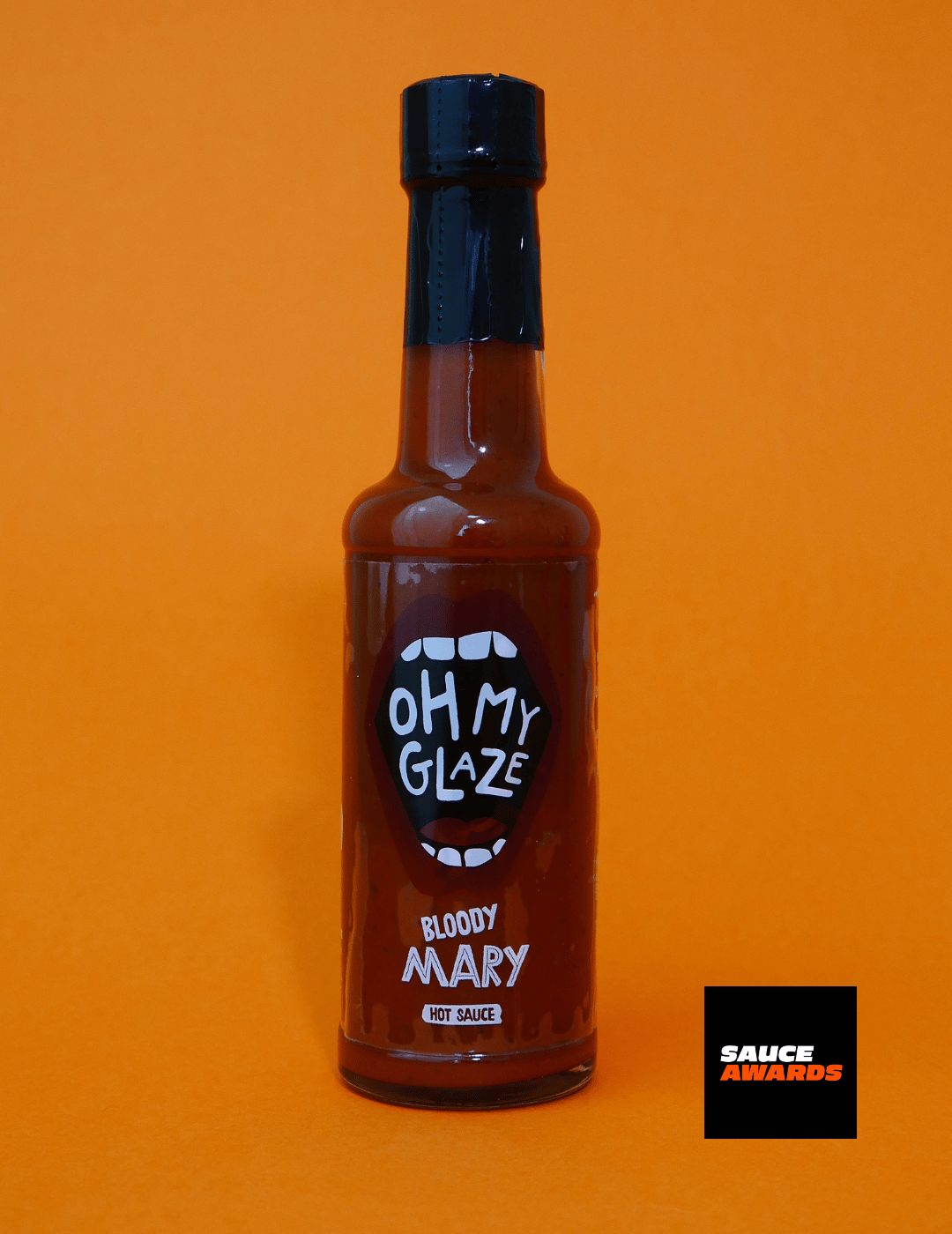 Bloody Mary by Oh My Glaze
If you're a fan of Bloody Mary cocktails, you'll adore this sauce! It's a taste mirror of the classic cocktail, capturing the tang of Worcestershire sauce, the celery's pleasant bitterness, the zing of lemon, and the sweetness of tomatoes. To top it off, a hint of chili adds a subtle heat, and the result is a sauce with a rich, complex flavor profile. It's like sipping a Bloody Mary, but in sauce form. This creation is a testament to the art of condiments and is sure to elevate any dish it graces. A delightful homage to a beloved cocktail in a bottle!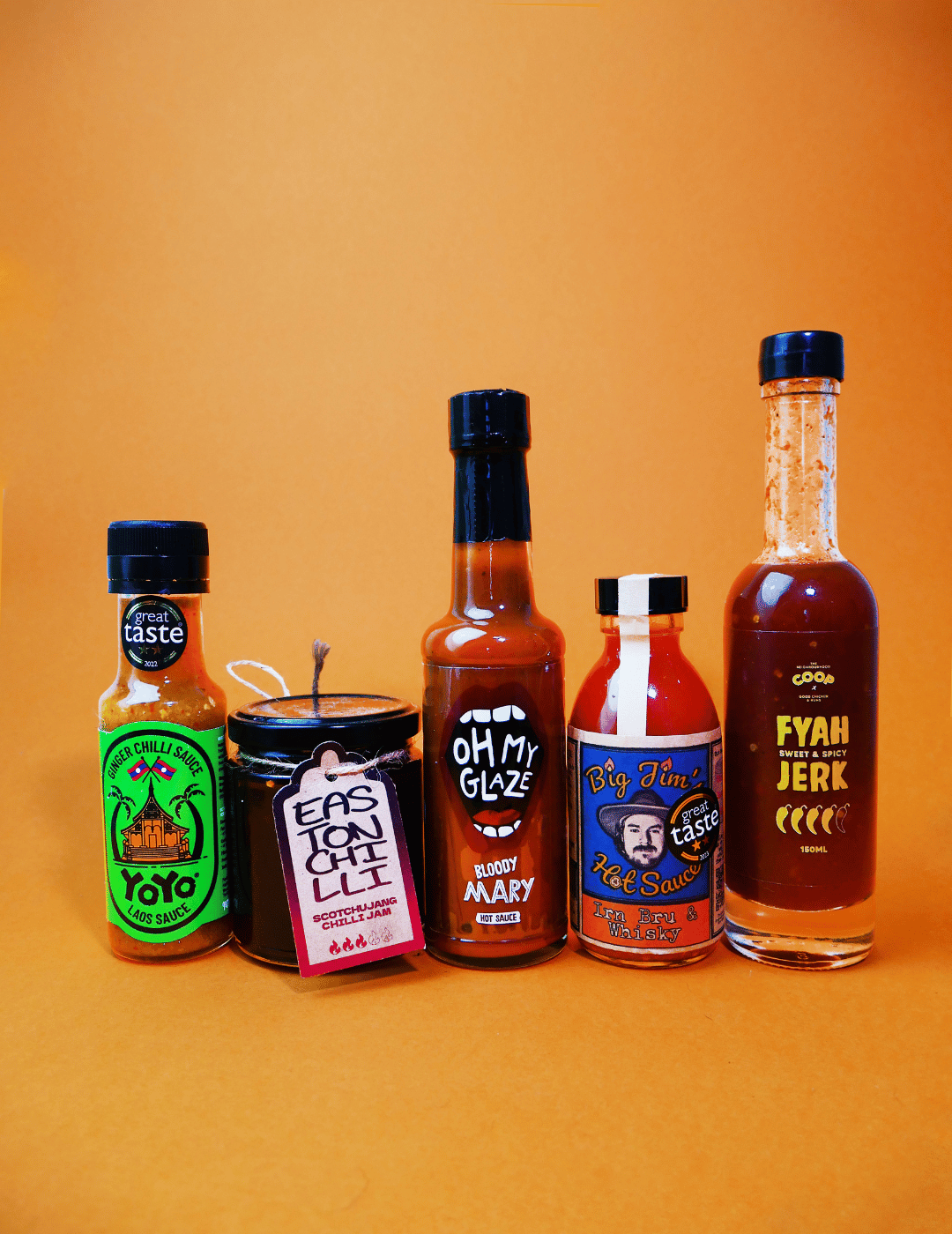 Meet our Sauce Awards 2023 best wild card finalists
These five sauces were selected by the Bauce Brothers as the most exciting wild card hot sauces of 2023.

In November, we will hold a live tasting session and one of these five will be crowned champion by our expert judging panel.

Stay tuned to find out who takes home the glory.
Best Ferment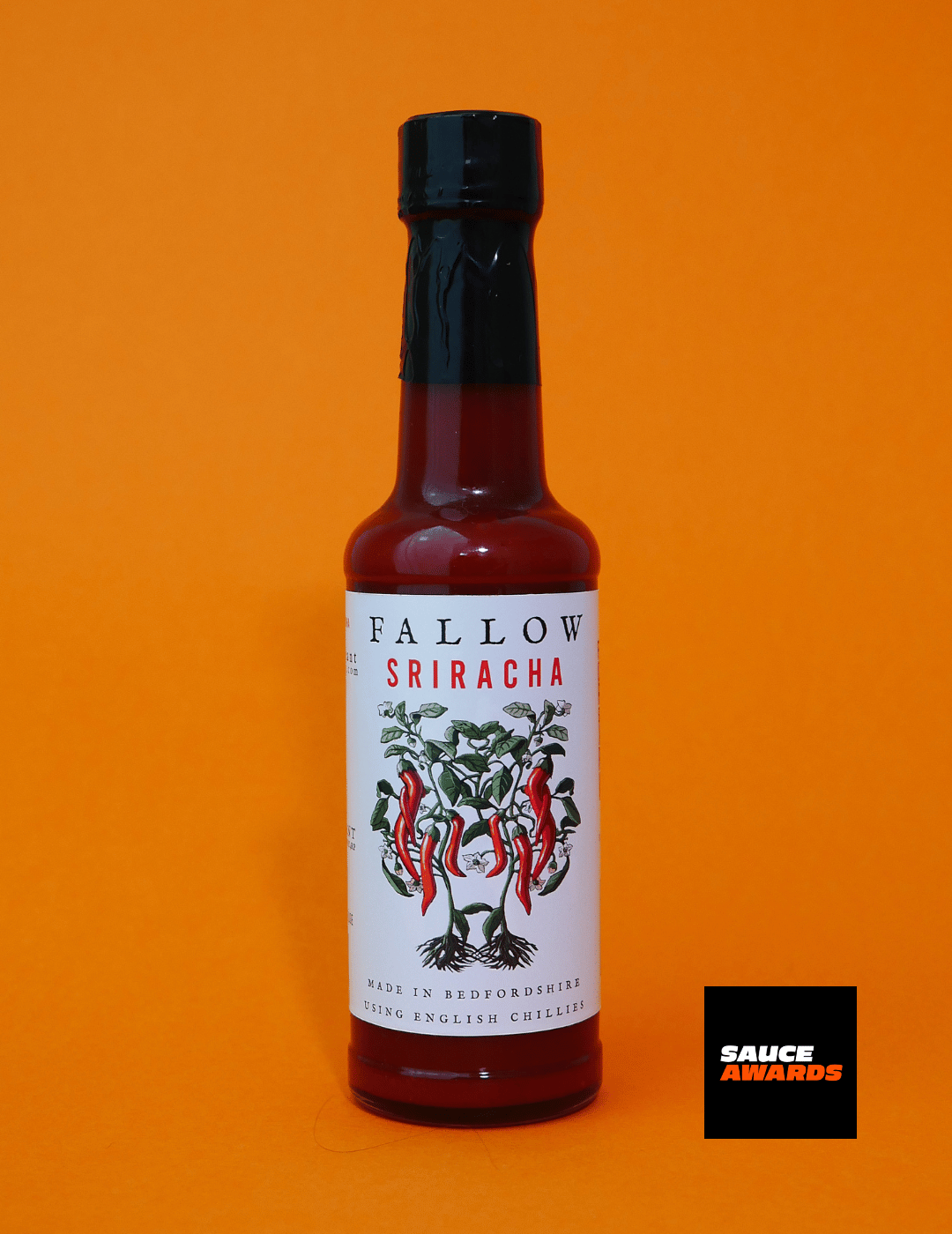 Fallow No.1 Handcrafted Sriracha by Fallow
"British Sriracha" is a testament to culinary innovation and expertise. It's crafted from fermented chili and garlic, expertly blended with soy sauce and Chardonnay vinegar. This live hot sauce is a product of conscious culinary creativity and hospitality experience, originating from Fallow Restaurant. Co-founded by chefs Jack Croft and William Murray, along with entrepreneur James Robson, the sauce embodies their collective dedication. It's not merely a hot sauce; it's a harmonious blend of tradition and innovation. "British Sriracha" stands as a worthy representation of excellence in the world of hot sauces.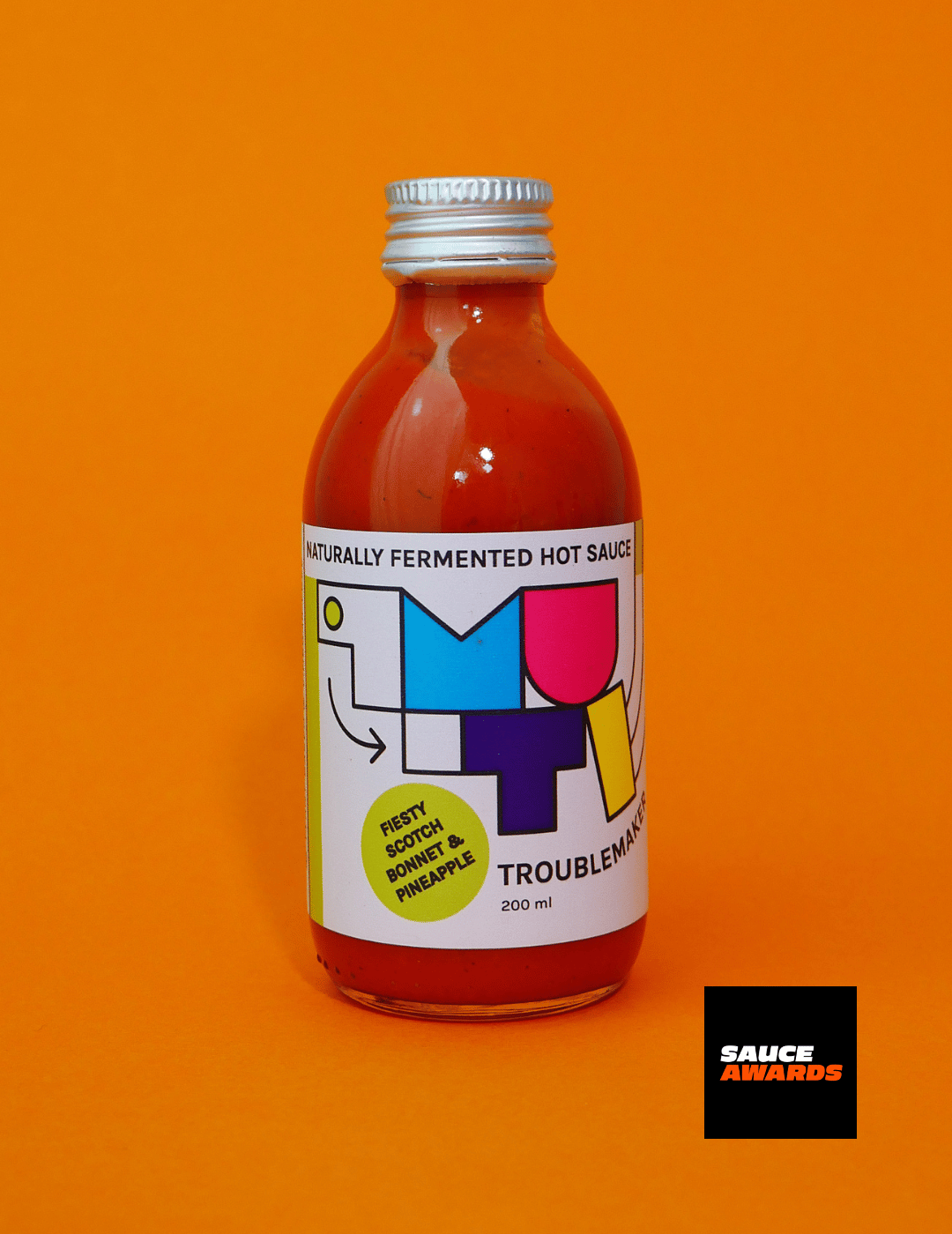 Trouble Maker by Muti Hot Sauce
"Muti Original Hot Sauce" is a tongue-tingling delight that sets a high standard in the hot sauce realm. Its vibrant blend of pineapple and fruity scotch bonnet peppers delivers an explosion of flavor that can elevate any dish, from a humble cheese toastie to eggs prepared any way you like. This everyday sauce exemplifies the art of condiments, offering a harmonious balance of sweetness and heat. With each drop, it transforms ordinary meals into extraordinary culinary experiences.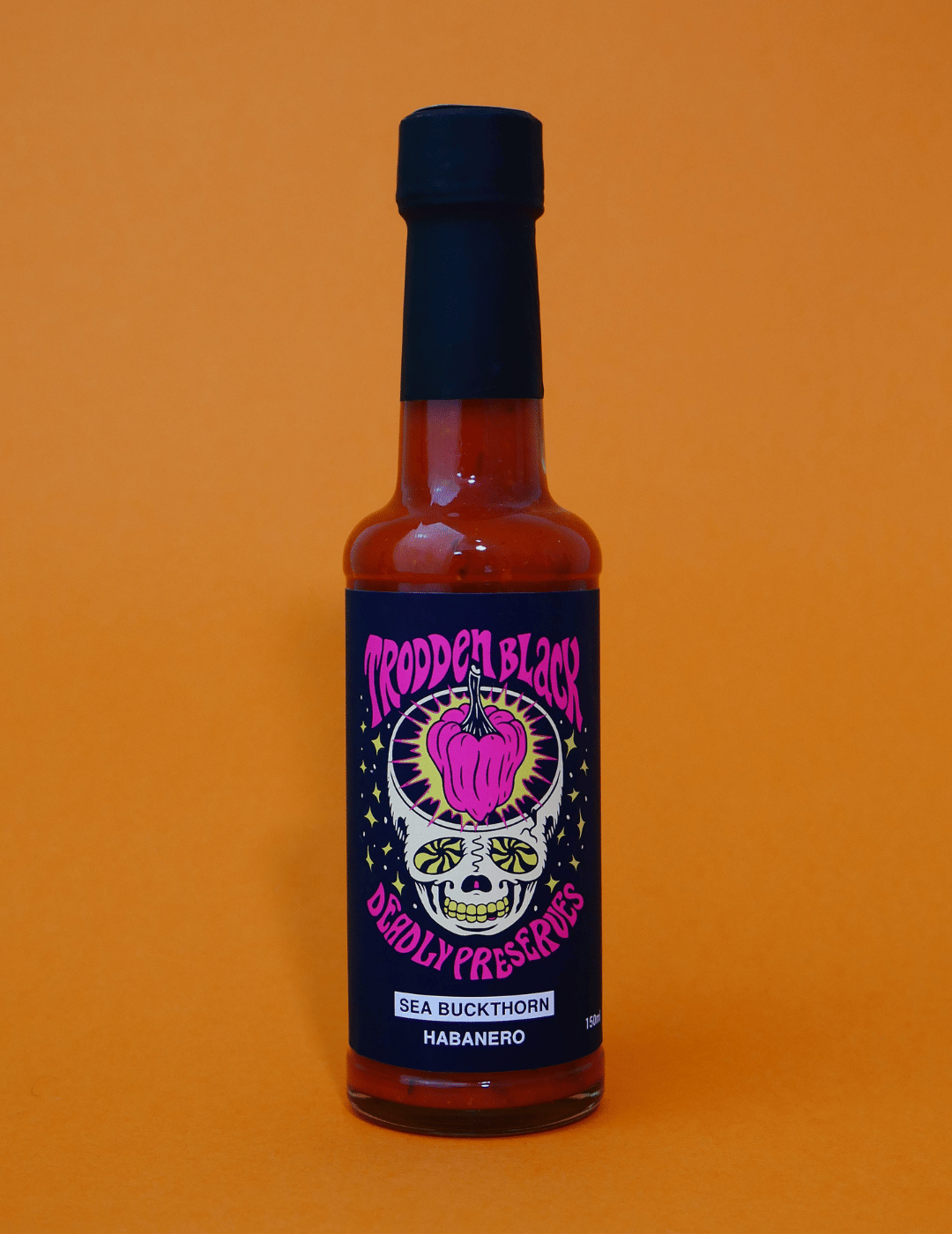 Sea Buckthorn & Habanero Hot Sauce
"Sea Buckthorn & Dulse Seaweed Hot Sauce" combines Irish Dulse Seaweed, Sea Buckthorn, and fermented Orange Habanero chilies to deliver a premium flavor experience. Dulse introduces an intriguing umami twist while enriching the sauce with nutrition. Sea Buckthorn, reminiscent of a cosmic blend of orange and lemon, imparts a citrusy brightness along with valuable nutrients. The addition of 'Blackthorn Scottish Sea Salt' elevates its quality further. Produced with meticulous attention, this hot sauce embodies sustainability and ensures consistent, exceptional taste in each batch. "Sea Buckthorn & Dulse Seaweed Hot Sauce" exemplifies craftsmanship and delivers an unparalleled flavor journey.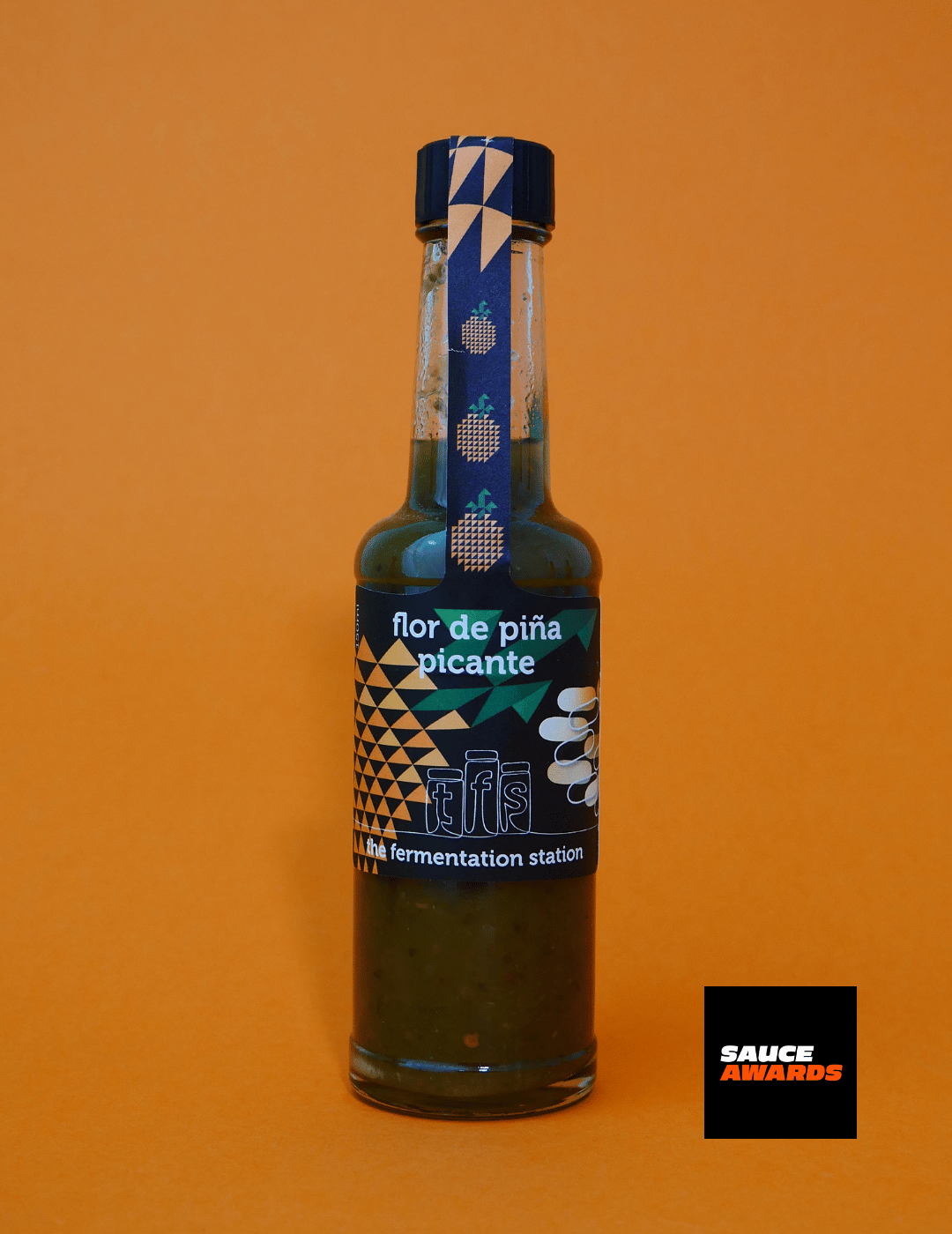 Flor De Piña Picante by The Fermentation Station
"Flor de Piña Picante" is a captivating fusion of flavors that promises to awaken your taste buds. Fermented jalapeños and sweet pineapple create a tantalizing balance of spicy and sweet. The addition of a Berliner Weisse beer, inspired by tepache and crafted with Black Lodge Brewery, lends a refreshing twist. Cinnamon and Ancho Chilli Flakes provide a final touch of Mexican-inspired magic. It's a hot sauce that takes your palate on a flavor adventure, delivering a symphony of taste that's nothing short of extraordinary. "Flor de Piña Picante" is a true culinary gem, deserving of acclaim in the world of hot sauces. Get ready for a taste explosion!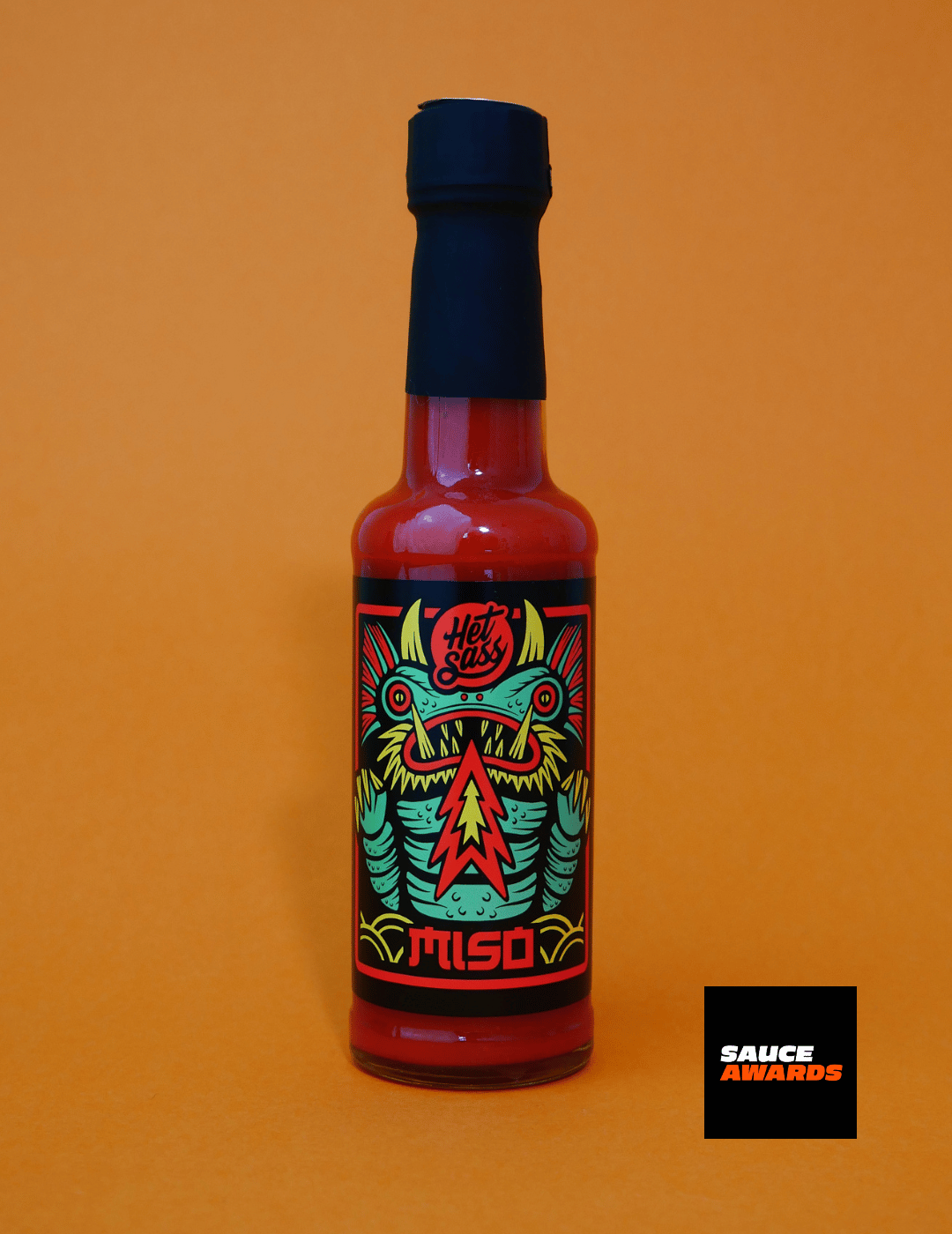 Miso by Singularity Sauce Co
"Pepper Miso Sriracha" is a tantalizing fusion of flavors that sets a new standard for hot sauce excellence. Fermented soybean meets fermented magic in this remarkable creation. Imagine a bowl of ramen with a generous drizzle of this sauce – god damn. We wholeheartedly recommend pouring it liberally; you deserve the flavor journey it offers. With ingredients like peppers, miso (SOYA), cider vinegar, garlic, moruga scorpions, agave nectar.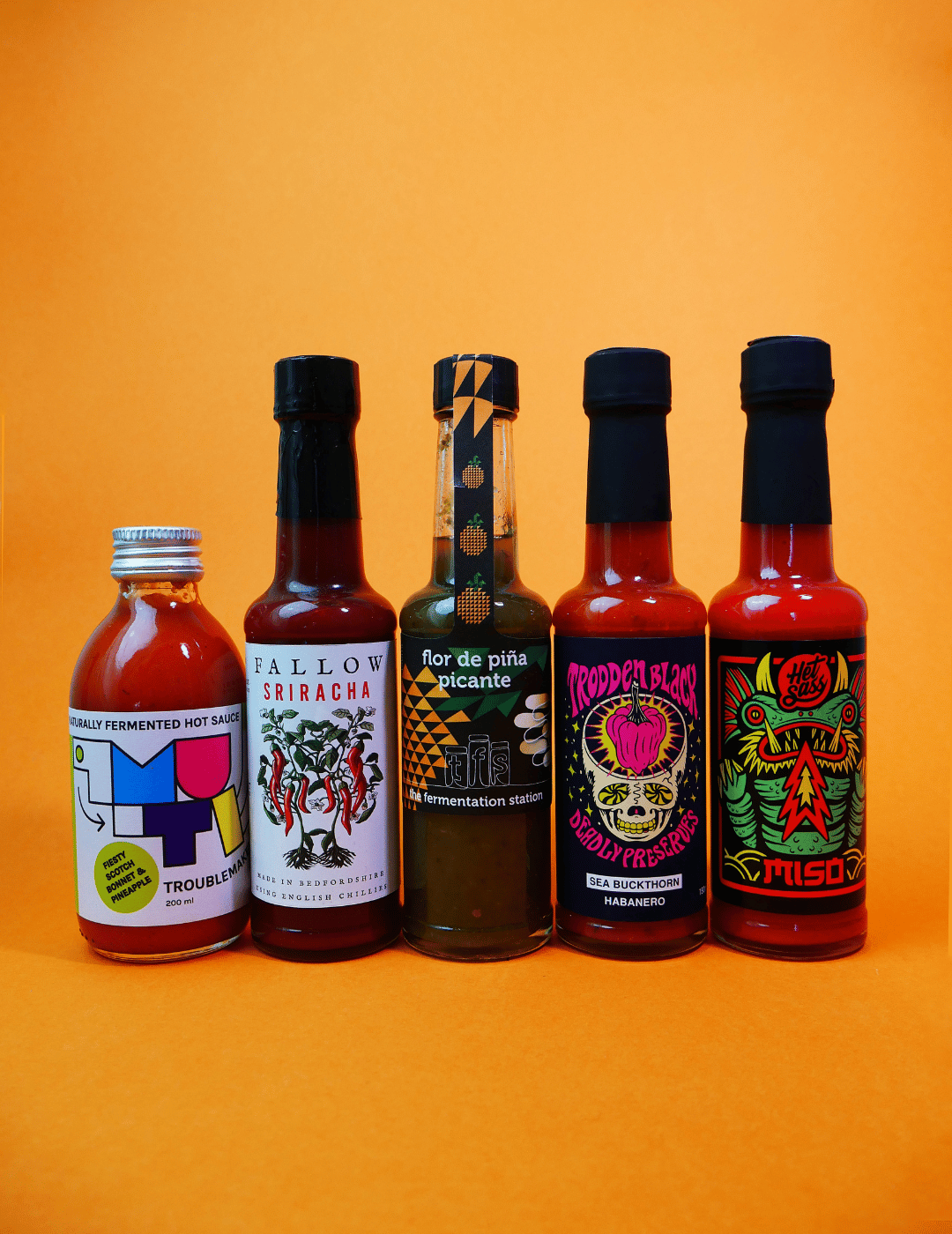 Meet our Sauce Awards 2023 best ferment finalists
These five sauces were selected by the Bauce Brothers as the most exciting fermented hot sauces of 2023.

In November, we will hold a live tasting session and one of these five will be crowned champion by our expert judging panel.

Stay tuned to find out who takes home the glory.